The Illini will take on the Seawolves of Stony Brook University of New York. For those baffled as to why Illinois must travel rather than play in the friendly confines of the Assembly Hall, one must only look at the Hall's schedule for this week. The Cirque du Soleil is in town, which pre-empts Illinois sports. Don't even get me started on that topic!

Stony Brook was established in 1957 and has a total enrollment of 24,692, with over 20,000 of those students on its main campus, located in Long Island, N.Y. Educationally, the school is rated in the top 1 percent of universities and ranks 127 out of 12,000 schools.

As for their hoops team, they finished first at 22-9 in the American East. They were 12-1 at home and have won 11 of their last 13 contests. The 'Wolves are led by the league player of the year, Muhammad El-Amin, who averaged 16.7 points per game. Stony Brook also features second-leading scorer Bryan Dougher, with 13.6 points per game, and Tommy Brenton, 9.8 rebounds per game.

This game will tip at 8 on Wednesday night. It is scheduled to be televised by ESPNU.

Revisiting the Big Ten tourney

Once again the Illini brought a lot of excitement to the Big Ten tourney. I was most pleased by the intensity and focus they brought to the court. As you know, I haven't been able to attend nearly as many games as I did in the past, so sometimes it's hard to report. You don't want to make generalizations that could easily be refuted if you had seen the games before or after your observations. That withstanding, I thought Illinois played as well this past weekend as they have all season.

Here's what I observed... I saw our guys diving on the floor for loose balls. I saw them putting body checks on guys to haul down big rebound after big rebound. And perhaps the most pleasing thing from my view (and if you've known me long, you might be surprised to read this) was the tenacity of our defense. I am being won over all the time regarding the emphasis on D. That's especially the case if games are going to continue to be called the way they are being called.

Don't worry; this will not turn into a piece crying about the officials or the calls. All I will say is that it appears that the finesse aspect of basketball has no place in today's game. Unfortunately for Illinois, we have a few guys who would benefit greatly IF finesse was valued and honored. I just think that the game has evolved into a rugged mosh pit experience, where rugby, wrestling and bludgeoning have become acceptable. I realize that I am really old school, but where did the game of basketball go? It appears to this writer that the game is way past the point of no return and that physical, rough play is now the name of the game. While I'm all for manning up and all that kind of stuff, I also like it when the little guy has a chance... and that is all I'm asking for. At one point the 3-point line and the shot clock seemed to help bring the little man back to the game. Now they are removing so many of the subtle nuances and just letting guys be bulls in the china shop. I don't like it... I think it is sad, but it is probably too far gone to get back to where it once was.

But give the Illinois kids credit, especially you bashers who have been on them all season. They came to play this weekend... and deserved a better fate. I for one was proud of their effort. They brought hustle, desire and energy to the table. And it wasn't just one guy, it appeared to be the whole team. The Illini were balanced from top to bottom.

Going into the tournament I did not see the Illini winning a game. I told Greg Taylor, let's go out take our loss, get it over with and get back home. It was so surprising and inspiring to see the guys elevate their level of play.

We really got after those Badgers on the defensive end. In fact, the only time they looked like themselves was when they were in utter desperation mode, jacking up 3s from every corner of the court. About the only thing I would've maybe considered was to start fouling them and only give them the potential for two points instead of three. However, the book says to never let a trailing team score points while the clock is stopped... so there you go. Not really much to complain about there. Someone said that Bucky has had the upper hand on us the last two to three years, so anytime you can take two out of three from those jokers, you take it! The cheeseheads were not very happy about it.

That brings us to the Ohio State game. I thought the Fighting Illini were terrific in that battle and outplayed the Buckeyes everywhere but on the scoreboard. Sometimes I'd rather get outplayed and still take home a winner, and that was one of those days. We had an answer for them until the last few minutes of double overtime, and even then we sent fear down their weaselly spines. And yes, you read that correctly, and no, I will not comment further on that except to say this: This weekend I lost what little respect I had for their program.

Demetri McCamey made the all-tourney team (and deservedly so) and showed the Big Ten fans exactly why he was an all-league first-team choice. Mike Tisdale came up big even while hobbled and getting extended breaks from the action. D.J. Richardson hit some big shots on the perimeter and continued to play solid, smart defense. It was also good to see the old Mike Davis on the court. To say that he had some big rebounds would be an understatement.

Brandon Paul also played well. I love his fired-up play and the way he exerts his will in a game. Jeff Jordan also had some good minutes and hit a huge free throw to close out Wisky. But perhaps the most pleasing player on the roster over the weekend was freshman Tyler Griffey. I know that the haters have questioned his playing time, but Tyler himself says that he is just now figuring out how to play our defense. I think that says it all and gives you all you need to know about that. At any rate, I felt like he really stuck his nose into the street fight, especially against the Bucks. As a bonus he knocked down some big shots. All things considered, he may have been the player of the game.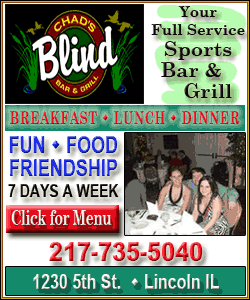 I could go on and give you lots more details, but I fear that it could confuse you more than it would provide good detailed insight. How is that possible when you are an eye-witness a few feet away from the scene of the crime? That is the beauty of sports. The incomparable Jack Buck may have said it best: "I don't believe what I just saw!"
However, I can tell you what I do believe... and that is this. For at least the weekend, the Illini figured it out. They came out with their hair on fire. They took no prisoners. They got after it... and looked to me like not only one of the best 64-65 teams in the country but maybe one of the top 15-20 in all the land.
Unfortunately, the committee didn't think so. IF you can get me a seat on that committee, please call me or e-mail me. Then they send us packing on a road trip to New York as a No. 1 seed in the other tournament... and you think this is not a nightmare? You just might be the person I can sell a house to!
Brushes with greatness
We don't always have the best or easiest access when we're at events. For some silly reason, LDN does not seem to command the same type of respect that, say, an ESPN or a CBS reporter might get. But we do bring a little charm and charisma along the way, at least sometimes. This was one of those weekends when it paid off for us.
First off, I got to speak to Northwestern coach Bill Carmody after his Wildcats defeated the Indiana Hoosiers. Though he has taken some heat from some of his fans, you have to respect the job he did this year after losing two players by the end of opening night. The Cats won 20 games. Not just a good season, but for the first time in school history! Maybe it's just me, but I think that is a heckuv an accomplishment. And I told him so. He was walking through the tunnel down the hall to his locker room. He stopped dead in his tracks, and I thought I was in trouble. He turned around, walked up to me, stuck out his hand and thanked me for the compliment! I simply told him that he deserved it. I said that I have been around the game most of my life and it is one of best accomplishments that I have seen. He smiled, thanked me again and entered a raucous locker room.
The next day I somehow found myself as the only media guy in the arena while the Michigan State Spartans were conducting their pre-tourney shootaround. Now, I have met coach Tom Izzo before on a couple of occasions, but he has no reason to remember me. He walked off the court and came over to shake my hand. I'm pretty sure he didn't know my name, but he remembered that I was a friend of their former head coach, Jud Heathcoat. He told me that Heathcoat is way too big-time for the Big 10 tourney and that he won't show his face until the Big Dance. The other coaches at the bench all started cracking up.
One of the Spartan assistants or administrators recognized the pullover I was wearing from a coaches convention a few years back. He said, do you know how that windbreaker dates you? I said that I did and we commiserated together on how the NABC has stopped giving the coaches good stuff at the annual convention. The coaches then let me stay for their shootaround, and I always think it is better viewing than even the actual games sometimes.
Saturday during Illinois' game with Ohio State we had the opportunity to be seated next to one of Purdue's broadcasters, Ralph Taylor, and one of Minnesota's assistant coaches, Saul Smith, head coach Tubby Smith's son. You really learn a lot sitting next to the coaches, and you realize that most of them have forgotten more about the game than you will ever know.
Ralph Taylor gave us lots of great insights on our game and on the league as a whole. I had mentioned to him that the TV guys always talk about the matchups, but that I always say that how the game is whistled is a better determining factor. We were surprised how much he concurred with us on that point. He said that it has become more like that of late. He gave the Illini lots of props and said that is always the way they come out against Purdue.
Greg Taylor asked Saul Smith if the Gophers were in the NCAA tournament with a win over Purdue. His response, "I wish." Turns out... he got his wish. Oh, how I would've liked to have gotten mine!
At post time I didn't think that the LDN was likely to send us to New York (unless they held a campaign to send us one-way) for the Stony Brook contest, but if the Illini can overcome disappointment and capture the win, we'll try to bring you some coverage next week. If not, we've enjoyed bringing you a few glimpses this season inside the huddles, inside the locker rooms and from the sidelines of the arenas. Our LDN readers and fans are the best in the business, and we just want to say thanks for reading, thanks for encouraging us and thanks for your friendship! Make it a great one, everybody!
[By JEFF MAYFIELD]
Respond to the writer at jeffmayfield@centralwired.com.