Laura on Life
Making the bed
By Laura Snyder

Send a link to a friend
[March 17, 2010] Making the bed doesnít seem like a particularly difficult task, but most kids make it more difficult than it has to be. If you think about it, making the task seem difficult and whining about it is the only weapon a kid has against parental authority. If they make it look like they canít do it, then surely someone else will do it for them.
I taught my children only one way to make their beds, but from that instruction came many variations. I swear that a bed-making imp must arrive in the middle of the night to demolish any thoughts of logic that I might have instilled and replaced them with some very creative instructions on how to make a bed. The beds look nothing like what I would consider "made."

Now, Iím not one of those army sergeant types who have to see a quarter bounce on the bed before theyíre satisfied. In fact, Iíve never been able to make that happen. However, Iím fairly confident that the bed should not eat the quarter after it has been tossed.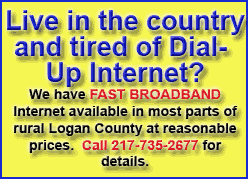 My daughterís bed, like many other young girlsí beds, has a collection of stuffed animals and pillows on it that really should be removed each time the bed is made. Apparently, they have taken up a mutinous residence on her bed and refused to be moved. As a result, my daughter is forced to tuck the blankets under them. This is an improvement, however. She used to simply throw the blankets over the top of the animals. Ta-da! Done!
My 13-year-old has been developing his theory that a bed can be made while one is still in it. It is not uncommon for me to see him squat-jumping on top of his bed while yanking a comforter into place. His experiments have even extended to hypothesizing whether he even has to make the bed at all. If he slept on top of the blankets and folded the bottom half up over his body, he could simply fold it back in the morning. We have found, though, that even with this groundbreaking theory, squat-jumping is still required.

My youngest boy apparently does not have the gene that retains instruction. He does not like to be too warm while he is sleeping, so he has only one thick comforter on his bed. The top sheet gets stuffed down into the crack between the footboard and the mattress. Why do they make sheets for kidís beds anyway?
The boy is all about low-maintenance. This is evidenced by the fact that the one comforter he has is not necessarily used to cover the bed, but to cover up the mess under the bed. As a result, one edge of the blanket droops to the floor on the side of the bed I can see from the doorway. The other edge is clinging to the top of the bed for dear life.
Clearly, there are many ways to make the bed. However, if a quarter bouncing on it is the indicator of a well-made bed, weíve got a long way to go.
[By LAURA SNYDER]
Laura Snyder is a nationally syndicated columnist, author and speaker. You can reach her at lsnyder@lauraonlife.com or visit www.lauraonlife.com for more info.