Refreshed with new recipes and categories every weekend, we invite all our readers to visit the section and find a great new recipe to try on the family.

And join in on the fun by submitting your favorite recipes to Deb Rohrer, LDN food editor, for inclusion in our volume of recipes.

If you haven't ever visited or haven't in a while, we recommend you stop by Grab Your Fork and see how large a volume of recipes we have cataloged in the first year.
---

Reminder: LCHS Baseball Boosters pancakes and sausage, biscuits and gravy breakfast is this Sunday, March 21, at the American Legion Hall in Lincoln. The price is only $6 for adults, and children under 12 eat for only $5. Proceeds go to help the Railer baseball team.
---

Registration for adult softball leagues at the Lincoln Park District will begin March 22 and continue through April 16. The men's league and the women's league will be both limited to the first nine teams with sponsors' and players' fees submitted. Cost will be a $175 sponsor fee plus $12 per player in district and $18 out of district. Teams will play approximately 10 games, including tournament play. Men will play single games on Monday evenings. Women will play on Thursday evenings. Game times for either league will be 6:30 and 7:30.
Information will be available the Lincoln Park District's front offices. Anyone with questions may call 732-8770.
---

Cornland Banking Center held their 90th anniversary open house on March 13. Special thanks to Dan and Rick Volle as well as Delmar and Barbara Harlean Veech for flowers delivered for the event.
Here is a list of door prize winners:
Roberta McKay, Lincoln
Lady's spring gardening basket from Giggles & Gab by Erin Alsup Soloman

Gerald R. Theobald, Buffalo
Man's summer barbecue basket from Giggles & Gab by Erin Alsup Soloman

John V. Olson, Elkhart
Canister of regular, cheese and caramel popcorn from Abe's Carmelcorn Shoppe

Robert Tierney, Cornland
Cordless Dustbuster from Lincoln Ace Hardware

Karen Beal, Cornland
3-D patio wind-catcher whirligig from Lincoln Big R

Dean Peddicord, Mount Pulaski
$25 gift certificate from Prairie Years Books / Toys / Gifts
Casey's of Lincoln supplied doughnuts, and Three Roses Floral created the centerpiece.
---



Principal Ed Jodlowski, Tommy Hilton and
Bob Werner, executive vice president of 1st State Bank of Mason City

The 1st State Bank of Mason City and Illini Central High School are pleased to present Tommy Hilton with the February Student of the Month Award. For demonstrating outstanding character, Tommy receives a $50 savings bond from 1st State Bank and a reference work appropriate to his course of study from the Illini Central High School faculty.

Tommy is the son of Jason and Tabitha Hilton. His classes this year are International Relations, Spanish IV, Contemporary World History, Advanced Computer Applications, Physical Education, Pre-Calculus and Trigonometry, and AP Literature and Composition.

In addition, Tommy keeps busy with a number of extracurricular activities. He participates in Science Club, Scholastic Bowl, Envirothon, Drama Club, Spanish Club, PawPrint, Worldwide Youth Science and Engineering, and Illinois Council of Teachers of Mathematics competition. Tommy also plays on the varsity baseball team, and he coaches summer baseball.

Tommy plans to attend Lincoln College, where he will major in history with education and play baseball.
---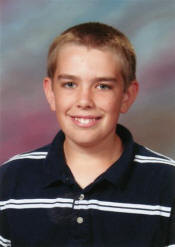 Josh Mangano, seventh-grader at Zion Lutheran School in Lincoln, has been selected as the Zion Lutheran February Student of the Month. Josh's ZLS activities are baseball, basketball, track, speech team and spelling bee. He is a member of Lincoln Christian Church. His church and community activities are youth group, choir, soccer and summer baseball. Josh also enjoys listening to Phillies' baseball games and playing video games. His parents are Dr. Mark and Roberta Mangano of Lincoln.
---
Got a good piece of news, information or something that we can all brag about? If you do, e-mail Mike and let us tell everyone about it. Plus you can win cash. Every submission, whether we use it or not, will get your name in the Close Up grab bag. At the end of the month we will draw a name and someone will get $25 just for dropping us an e-mail. If you wish, we will be happy to donate your winnings to the organization of your choice.
You can contact Mike at mikefak@lincolndailynews.com.
[MIKE FAK]