Slim Randles' Home Country
Calamities at home and away

Send a link to a friend
[March 20, 2010] When little Jimmy Crispin walked away from his home the other day, it was an earthshaking calamity. Jimmy is 3, you see, and Cheryl Crispin, his mom, is really a good mother, but we all know how quick a 3-year-old can be. It was cold, and all he had was a sweater over his regular clothes. Blue-and-white. Knitted for him by his grandmother in the city.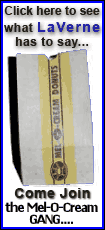 Within an hour, it was on the radio stations in the valley. The high school closed at noon so students could help in the search. Steve and Dud saddled horses to hunt for the boy down along the river.

By lunch time, we had been informed by reporters just what Jimmy had for breakfast, what color shoes he was wearing, a good description, including a small scar on his left ankle, and what are his favorite things to eat.

At the barber shop and down at the Curl Up 'N Dye beauty salon, Jimmy was the only topic of conversation. Jimmy's plight replaced even the weather and political discussions at the Mule Barn and the garage.

At least two local churches unlocked their doors so people could stop by and pray for the little boy's safe return, and ladies from one church and the Ladies Literary League took hot dishes over to the Crispin house for the family.

About 8 o'clock that night, Mrs. Shepherd went out in her backyard to see what her dog was barking at, and found little Jimmy huddled in a corner of her garage. He was cold and hungry and crying, but he was all right.
By 8:30, everyone in the valley knew about it and gave prayers of thanks.
On the other side of the world, a disaster claimed tens of thousands of lives later that night. But in the morning, all we talked about was Jimmy. We all know a 3-year-old boy. None of us knows tens of thousands of people.
We'll just send some money and prayers and say, "Isn't that a shame."
[Text from file received from Slim Randles]
Brought to you by "The Long Dark, An Alaska Winter's Tale." Available at www.slimrandles.com.