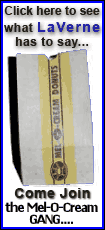 When city members gathered in front of the Best Western to cut the ribbon on the wagon's new home yesterday, Ladd was beaming as he introduced city, county and state officials to say a few words.
The previous site of the wagon was on Woodlawn Road and Lincoln Parkway, and many felt it was an inappropriate spot. Abe's new home is on a special pad surrounded by split rail fencing that gives the wagon a much more presentable look.
The wagon also has been reinforced to take the pitch out of the wagon and to relieve pressure on the wheels.
Paresh Patel, owner of the Best Western, says he has had international travelers driving Route 66 stop and ask about the wagon. Patel said a pair of Japanese men recently stopped as they made the drive from California to Chicago in the car they had shipped over for the journey.
Bill Kelly, executive director of the Illinois Route 66 Scenic Byway, told those gathered that this summer the new Route 66 signs would be finished and one of the new signs would be added at the site. The signs, in chrome, relate to the cars of the fabulous '50s when Route 66 was the "Mother Road."
Larry Van Bibber, who donated the funds to purchase the wagon in 2007, said he decided to purchase the wagon for the city to help attract tourists.
Mayor Keith Snyder made a reference to a joke around town about the position of the wagon at its old location and the direction it was facing. "As a city, we're just happy that Abe's got a new home here. Nobody has to worry whether he's going in or out of town," Snyder said.
Tiffany Tebben from Pekin was on hand representing U.S. Rep. Aaron Schock's office.
[LDN]