Habitat for Humanity, quilters, Castle Manor, Community Health Fair and Carroll Catholic make Close Up
By Mike Fak
[March 23, 2010] Despite the cold, windy day Sunday, Habitat for Humanity of Logan County had a happy, warm experience in Elkhart at the groundbreaking of HFH home No. 14, for Kurt and April Young and their family. The ground is open and the foundation is being poured. Over 50 people were there to turn over a spade full of dirt and dedicate the site for the family. Several highlights of the day and participants in the program: donators of the property, Rick and Kathy Kaesebier; Pastor Bob Twist of Elkhart Christian Church, who is making this an ecumenical community project for Elkhart; and Kurt and April Young, future homeowners, who ended their remarks to the crowd by presenting a $500 check to Tonita Reifsteck, president of Habitat for Humanity of Logan County. This represents one of the requirements of each homeowner before they can receive the keys to their home. A photo array is in today's (Tuesday) Community section.
---

The Quilters at Heart Quilt Guild will have their monthly meeting at 7 p.m. Wednesday at Trinity Episcopal Church, 402 Pekin St. in Lincoln. The program will be "The Batting Challenge," "green" batting and garage sale night. For additional information, contact Stacie Wachtel at 309-533-1122, 217-732-7029 or staciewachtel@yahoo.com.
---

Castle Manor will have two town hall meetings. The first one will be at the First Christian Church in Mount Pulaski, at the Family Life Center, at 6:30 p.m. on March 30. The second will be at the Atlanta Community House in Atlanta at 6 p.m. April 6. Come and learn what "supportive living" is and the services Castle Manor will bring to the community.
---

The Community Health Fair will be on Saturday, March 27, from 9 a.m. to 2 p.m. at the Lincoln Park District's Indoor Sports Center. Admission is free. Everyone is invited to attend. Please bring a food item for the local pantries.
Do you have recyclable items in your home? The 2009 Community Health Fair will not only provide health screenings and health exhibits, but a chance for you and your family to bring in recyclable items! Bring your recyclable objects to the Community Health Fair, themed "Healthy Earth…Healthy You." GO GREEN! Collect your items now! Bring in container glass, printer cartridges, cell phones, eyeglasses, CFL light bulbs, pop tabs, plastic bags, medications and mercury products.
---

The Carroll Catholic third-quarter honor roll is as follows:
High honors:
Fourth grade -- Emma Cameron, Jennifer Huynh, Sana Wahab, Alice Roate
Fifth grade -- Emma Mammen
Sixth grade -- Julia Huynh
Eighth grade -- Tammy Huynh, Emmery Mammen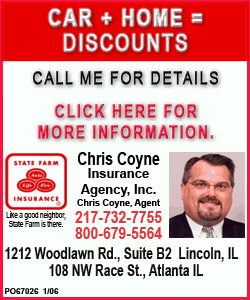 Honors:
Fifth grade -- Cole Sheley
Sixth grade -- Melissa Van
Eighth grade -- William Armbruster, Brianne Guzouskis
Honorable mention:
Fourth grade -- Cole Klockenga, Griffen Jodlowski, John Ferriera, Benjamin Grunder, Aleck Bailey, Jaden Pellinghelli-Drake
Fifth grade -- Grace Hemenway, Hayden Sanborn, Reagen Tibbs
Sixth grade -- Davis Welch, Kristen Lahr, Sage Conrady, Hannah Cameron
Seventh grade -- Shamir Wahab, Jonah Pellinghelli-Drake, Christopher Duong, Zac Boss
Eighth grade -- Edward Bowlby, Schyler Conrady, Chloe Cox, Kenyon Jodlowski, Max Marck, Zoe Nepolello, Kelsey Shanle
---
Got a good piece of news, information or something that we can all brag about? If you do, e-mail Mike and let us tell everyone about it. Plus you can win cash. Every submission, whether we use it or not, will get your name in the Close Up grab bag. At the end of the month we will draw a name and someone will get $25 just for dropping us an e-mail. If you wish, we will be happy to donate your winnings to the organization of your choice.
You can contact Mike at mikefak@lincolndailynews.com.
[MIKE FAK]