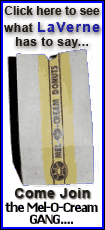 Megan Mullally (muh-LAHL'-lee) has abruptly left the cast of the upcoming Broadway revival of "Lips Together, Teeth Apart," Terrence McNally's comedy about two married couples sharing a Fourth of July weekend at a Fire Island beach house.
Roundabout Theatre Company artistic director Todd Haimes said Wednesday he was "surprised and disappointed" by her decision.
Mullally could not immediately be reached for comment, but the Web site Dateline Hollywood reported she was unhappy working with director Joe Mantello, one of the New York theater's most sought-after directors.
Haimes said a replacement would be announced shortly and that the Roundabout production will open as scheduled April 29 although the first preview will be delayed.