Draw 4 for Carroll, Zion Lutheran, Hartsburg-Emden FFA, WL-B honor roll, Montessori Children's House and Ethan Graue all in Close Up
By Mike Fak
[March 26, 2010] On April 18, Carroll Catholic School will premiere the Draw 4 Carroll raffle, formerly known as the Lucky 6 drawing. The kickoff celebration will be at Carroll Catholic School following the 10 a.m. Mass at Holy Family Church. Carroll students will provide entertainment, and light refreshments will be served. Keith Snyder, Lincoln's mayor, will draw the winning tickets for April.
The Draw 4 Carroll program will be a monthly drawing through March 2011. Four prizes will be awarded each month: first prize, $1,000; second prize, $500; third prize, $250; and fourth prize, $100. Winning tickets will be re-entered for future drawings.

Tickets may be purchased for $25 securely by credit card online at the Holy Family Church Web site, www.holyfamilylincoln.com. More information about Carroll Catholic School and this drawing may also be found on the Web site. Winners and locations of future drawings will be posted there as well. Tickets may also be purchased at the parish office, Carroll Catholic School and various businesses.

Everyone is invited and encouraged to attend the kickoff party for this exciting new raffle to support Christian education provided at Carroll Catholic School.

If you have further questions, please contact the parish office at 217-732-4019.
---

17 Zion Lutheran projects advance to state history fair
The following ZLS students received a superior rating on their projects at the regional history fair at the Abraham Lincoln Library in Springfield and will advance to the Illinois History Expo on May 6 at the Prairie Capital Convention Center in Springfield: Exhibits -- Jim Sielaff, Lance Stanfield, Elizabeth Tripplett, Grace Walters, Kathryn Arneaud, Megan Opperman, Elizabeth Ford, Lexie Groves, Justin Broom, Ben Steiner, and Anna Walters; media -- Allie Cox, Josh Mangano, Faith Smith, Brad Miller, and Joe Ahrends; performance -– Emma Nobbe.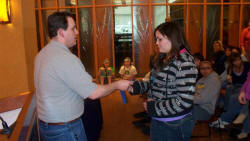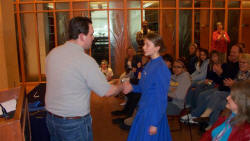 In upper picture,
Faith Smith receives her superior rating award at the history fair. In second, Emma Nobbe receives her superior rating at the fair.
---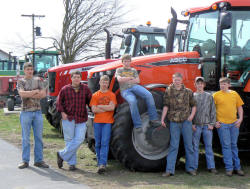 This week the Hartsburg-Emden FFA has been conducting FFA Week activities. Events included milk-a-cow, lassoing contest, wheelbarrow relay races, tractor and truck day, bale stacking contest, agricultural literacy activities at the Emden Grade School, and an all-school assembly featuring ag Olympics and Mr. FFA. Click on picture for larger image.
---

West Lincoln-Broadwell third-quarter honor roll
Eighth grade:
High honors (3.6-4.0) -- Kenneth Bacon, Daniel Hemenway, Grant Johnson, Lexee Klockenga, Livvie Muck, Joey Olden, Michelle Paulus, Tiffany Strickler, Sam Tiffany, Alex Turner
Honors (3.0-3.5) -- Adam Papirnik, Mason Newman, Hunter Wieber
Seventh grade:
High honors -- Leah Anderson, Tara Bradley, Andrew Coop, Levi Curry, Payton Ebelherr, Kyle Fitzpatrick, Preston Marten, Lexi Morris, Betsy Olson, Jordan Yarcho
Honors -- Adam Conrady, Dalton Presswood
Sixth grade:
High honors -- Jeris Bender, Kathryn Benner, David Biggs, Brycen Hicks, Kaylyn Hoffert, Adrienne Klockenga, Garrett Schreiner, Brook Soebbing, Chase Turner, Jordan Wood
Sixth grade -- Emily Martinez
---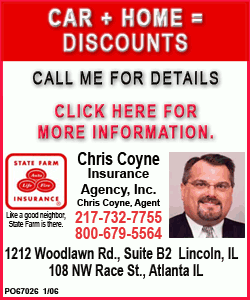 The Montessori Children's House in Lincoln is now enrolling students for the 2010-2011 school year. The school is open to students from preschool to grade three and operates Monday through Friday. Preschool and pre-K students attend half-days, and kindergarten to third-grade students attend full days.
The Montessori Children's House is beginning its fifth year of operation in Lincoln with Ms. Bethany Vickers serving as the school directress. Ms. Vickers founded and operated the Montessori School of Miami Beach, Fla., for 33 years prior to opening the Montessori Children's House in Lincoln.
Children attending the Montessori Children's House learn in a mixed age group environment and are free to move about, speak and work within the school. Children work one-on-one receiving a lesson from teachers or older students in one of the four avenues of learning: practical life, sensorial, language and math. In addition, children are instructed in music and basic French. Practicing good manners and showing respect for others are strongly emphasized, so that grace and courtesy become a part of a child's way of life.
Parents of prospective students are encouraged to come in and observe the classroom to see the difference a Montessori education can make. For enrollment information or to schedule an observation, contact Bethany Vickers at 217-737-1463.
---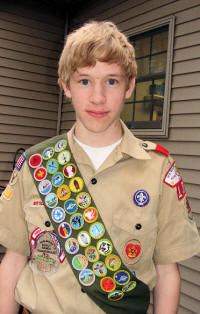 Congratulations to Ethan Graue. Ethan attained the rank of Eagle Scout at Wednesday night's meeting of Boy Scout Troop 1102, aka Troop 102, after passing the Eagle Board of Review. Ethan also celebrated his 18th birthday on March 25 to make it a great week for the young man. Ethan is the son of Chris and Phyllis Graue. Click on picture for larger image.
---
Got a good piece of news, information or something that we can all brag about? If you do, e-mail Mike and let us tell everyone about it. Plus you can win cash. Every submission, whether we use it or not, will get your name in the Close Up grab bag. At the end of the month we will draw a name and someone will get $25 just for dropping us an e-mail. If you wish, we will be happy to donate your winnings to the organization of your choice.
You can contact Mike at mikefak@lincolndailynews.com.
[MIKE FAK]