The Lincoln Area YMCA will again work with Lincoln Christian University during their Evangelical Week. Volunteers from LCU will help with various programs and activities during the last week of March. E-Week brings us together through work, food and fellowship.

The YMCA will still accept registrations for YMCA Spring Volleyball Clinic, at an increased fee. This program introduces the sport of volleyball and teaches the skills necessary to play. Kids in first through third grade will meet at 5:30 p.m. on Tuesday evenings, and kids in fourth to sixth grade will meet at 6:30 p.m.

Late registrations for YMCA Spring Soccer and Spring Travel Soccer are being accepted for an additional fee. Spring Soccer introduces soccer fundamentals and techniques to kids ages 3 1/2 to 12 years. Participants will practice once weekly, and games will be on Saturday mornings from April 10 to May 22. Spring Travel Soccer is a more competitive league for kids 12-14 years old. This league will compete against other YMCAs on Saturday mornings April 10-May 29 at the Springfield YMCA's soccer fields, located on the U of I at Springfield campus.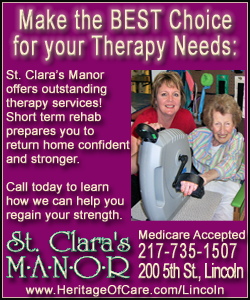 2010 Summer Kid Camp and Summer Preteen Camp will begin taking registrations on Monday, April 5. Information regarding these programs will be available in the 2010 Spring/Summer Program Catalog and at www.lincolnymca.org.
Get your little ones ready for baseball season and sign them up for Wee Ball. Children 4-6 years will be taught the basic skills of baseball, including throwing, catching, hitting and running bases. Participants will also play an abbreviated game each week. Registration for this program ends May 13.
[Text from file received from Lincoln Area YMCA]