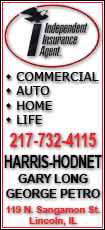 The liberal talk show host placed the ad in Friday's edition of The Boston Globe after newly elected Republican Sen. Scott Brown sent out a fundraising appeal alluding to a potential challenge from Maddow.
Maddow says Brown was "using the made-up threat of me running against him to try to scare donors into giving him more money." She has a home in western Massachusetts.
A Brown spokesman notes some liberals first raised the idea of Maddow running against the senator. And then the Massachusetts Democratic Party chairman sent out a Twitter message that appeared to inquire about the possibility of her running.