---

LCU students will be working with the Lincoln Area YMCA this week during the Lincoln Christian University "Week of Evangelism." Dr. Mark Mangano of LCU and 12 students are working with the YMCA for the seventh or eighth year, doing mission work at the YMCA Activity Center on Wyatt Avenue and also in the downtown office. Students will be painting, cleaning, working with YMCA staff at the School's Out Fun Day, and also working on projects in the office.
They will work with the Y Monday through Thursday this week. The YMCA will host lunch for them each day at 11:30 am at the office location, using the front portion of Sorrento's restaurant for seating.
---

Zion Lutheran School, Lincoln, third-quarter honor roll
High honors:
Third grade -- Katie Lynn, Lane Prather
Fourth grade -- Emma Ritterbush, Mya Roberts
Fifth grade -- Heather Heidbreder, Brooklyn Hermes, Zack Prather, Anna Sielaff, Isabelle Thompson
Sixth grade -- Joe Ahrends, Lizzie Ford
Seventh grade -- Aaron Butler, Josh Mangano, Emma Nobbe, Grace Walters
Eighth grade -- Brad Miller
Honors:
Third grade -- Francesca Adubato, Megan Benner, Noah Henry, Blake Hermes, Grace Montgomery
Fourth grade -- Ashlan Broom, Emma Cooper, Nathan Ford, Katie Hunsley
Fifth grade -- Danielle Burgrabe, Claire Conrady, Hailie Williams
Sixth grade -- Lexie Groves, Taylor Rich, Ben Steiner, Anna Walters
Seventh grade -- Jim Sielaff, Logan Thompson
Eighth grade -- Kathryn Arneaud, Justin Broom, Megan Opperman
Honorable mention:
Third grade -- Carter Brown, Jacalyn Green, Carson Madigan, Madeline Steiner
Fourth grade -- Gabi Cox, Lance Podbelsek, Tori Tripplett
Fifth grade -- Sydney Johnson, Kalyn Roberts
Sixth grade -- Ashley Baker, Rachel Lockenour, Teran Madigan, Rachel Podbelsek, Drew Simmer, Breanna Whittaker
Seventh grade -- Kaya Albert, Alysa Cox, Tori Hoban, Faith Smith, Caitlin Williams
Eighth grade -- Rachel Marlin
---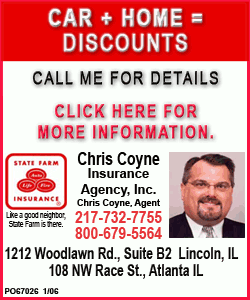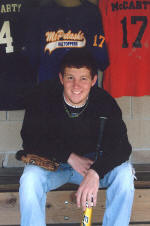 Andrew McCarty has been named March Senior-of-the-Month at Mount Pulaski High School. A Mount Pulaski resident, Andrew is the son of Richard McCarty and Robyn McCarty.
In high school Andrew has been active in student council, Spirit Squad and FFA. He is a four-year member of the Toppers baseball team. He also played Lincoln Legion baseball and Mount Pulaski Junior Legion baseball.
Andrew is a member of the Mount Pulaski Christian Church youth group and the Millennium Clovers 4-H club.
He plans to attend Southern Illinois University in Carbondale to major in animal science.
The Senior-of-the-Month program is co-sponsored by Johnson's Food Center and Mount Pulaski Pharmacy. Monthly winners receive $100 savings bonds and are eligible to compete for the $1,000 Senior-of-the-Year award.
---

CICBC blood drives on April 5
The Lincoln Woman's Club is sponsoring a blood drive at Lincoln Masonic Center, 2022 N. Kickapoo, from noon to 6 p.m. The Farmers Bank of Mount Pulaski, 130 S. Washington in Mount Pulaski, is sponsoring another from 9 a.m. to noon.
Central Illinois Community Blood Center is the blood provider to area patients of 19 counties at 19 central and southwestern Illinois hospitals. CICBC is the only provider of blood to Abraham Lincoln Memorial Hospital, Hopedale Medical Complex, Memorial Medical Center and St. John's Hospital. If you have any questions about donating, you can call 1-866-GIVE-BLD (1-866-448-3253). Walk-ins are always welcome, but to schedule an appointment call 1-866-GIVE-BLD, ext. 131, or sign up online at www.cicbc.org.
---
Got a good piece of news, information or something that we can all brag about? If you do, e-mail Mike and let us tell everyone about it. Plus you can win cash. Every submission, whether we use it or not, will get your name in the Close Up grab bag. At the end of the month we will draw a name and someone will get $25 just for dropping us an e-mail. If you wish, we will be happy to donate your winnings to the organization of your choice.
You can contact Mike at mikefak@lincolndailynews.com.
[MIKE FAK]