'I Always, Always Get My Way'

Send a link to a friend
[March 31, 2010] "I Always, Always Get My Way," written by Thad Krasnesky, illustrated by David Parks, 30 pages, preschool through age 8
In the book "I Always, Always Get My Way," Thad Krasnesky and David Parks have teamed up to present us with a hilarious and too often true depiction of life with a spoiled 3-year-old child. Emmy, with her large eyes, bare feet, crooked ponytail and oversized T-shirt, is the epitome of disaster waiting to happen. She is always looking for adventure, much to the annoyance of Dad, big brother and big sister. Spilling orange juice, tripping on brother's track and borrowing things from her sister are never Emmy's fault. Emmy also knows that when someone gets angry with her, she can run to Mom's knees and receive special treatment because… "after all… she's only 3."
This works well until the weekend when Emmy decides to play pirate and hide the family treasure. Dad makes her put it all back and clean up. Then she makes a mess fixing snacks to eat while watching cartoons and Mom makes her clean up. However, the last disaster is the biggest. She tries to play with her brother's lizard, dressing him up in a doll's bathing suit to "sail" in the bathtub aboard her sister's shoe. Mom can no longer stand between Emmy and her misdeeds. The entire family knows full well that Emmy is the culprit in the mess and she is sent to bed in her room. Even though she innocently looks at them and reminds them that she is only 3, it does not save her from her punishment. At the end, she decides she may have to stay in her room until she turns 4.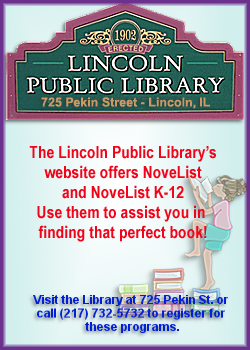 David Parks has captured all aspects of an adorable and frustrating 3-year-old. Emmy is pictured from innocent, doe-eyed toddler to screaming, red-cheeked tyrant. He gives each spread an element of bright-colored detail that allows the reader to picture the havoc wrought by the toddler, while using white space to draw the attention to the important aspects of the scene. Even the terror on the lizard's face when confronted by a broom-wielding Emmy is both laughable and endearing!
No matter what your age, if you have children or have any experience with the little tots, you will laugh out loud at Emmy's antics, sympathize with her family and smile at her inevitable realization that the world does not revolve around her whims. This is a story not to be missed! You can find it and other books about families at the Lincoln Public Library, 725 Pekin St.
[Text from file received from Louella Moreland, Lincoln Public Library District]
(Ms. Lou's blog: lincolnpubliclibraryupdates.blogspot.com)