TV academy honors 8 TV shows 'with a conscience'

Send a link to a friend
[May 03, 2010] LOS ANGELES (AP) -- A "CSI: Crime Scene Investigation" episode about prejudice and an Alzheimer's documentary with Maria Shriver are among eight programs to be honored Wednesday for demonstrating the power of TV.
The third annual Television Academy Honors spotlighting shows found to exemplify "television with a conscience" will be hosted by Dana Delany. The announcement was made by the Academy of Television Arts & Sciences.
Presenters were scheduled to include former Vice President Al Gore, Joel Grey and Shriver, the first lady of California and former NBC News correspondent.
"This is about the television community and the people who work in it putting their heart and soul into their work," said academy Chairman and CEO John Shaffner. "None of these stories would be told if someone didn't say, 'I have to do this.'"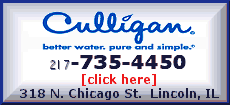 In the vast media sea, he said, the Academy Honors are "here to keep our mind on the main thing: TV can really matter and make a difference," Shaffner said.
The programs to be honored:
"CSI: Crime Scene Investigation" for the episode "Coup de Grace," which takes on racial bias and profiling in a story about an off-duty officer's accidental killing by a colleague.

"Glee" for the episode "Wheels," which highlights entrenched biases, including those faced by people with disabilities.

"Private Practice" for the episode "Nothing to Fear," about physicians dealing with the moral, legal and ethical issues raised by an ailing man's request for assisted suicide.

"Taking Chance," a film about the journey of an Army officer shepherding the remains of a soldier killed in combat in Iraq to his final resting place.