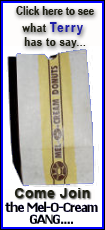 A computerized sell-off, which might have been triggered by a simple typographical error, sent the Dow Jones industrial average down by a record nearly 1,000 points in about 30 minutes Thursday afternoon. The market started to steady itself and regained two-thirds of that loss before the end of trading.
Still the 348-point, or 3.2 percent, drop on the Dow was the worst day for the index since February 2009 when the market was swooning and headed toward a 12-year low. The Dow has lost 631 points, or 5.7 percent, over the last three days.
Stocks had been trading lower throughout Thursday on concerns about Greece's ongoing debt problems. There are fears over whether a $140 billion bailout for Greece would stem a spread of debt issues across the continent that could unravel a global economic recovery.
Leaders of the 16 countries that use the euro are meeting in Brussels Friday to complete the Greek rescue plan and determine how to avoid future debt crises. Germany's parliament is expected to vote on its contribution for the loan package. As the largest country using the euro, Germany is on the hook for the largest portion of the bailout, which is also being funded by the International Monetary Fund.
Greece's parliament passed an austerity plan Thursday night, despite heavy protesting from citizens throughout the country. It needed to approve the plan to receive the bailout money, a portion of which will be needed to cover debt payments on May 19.
Ahead of the opening bell, Dow Jones industrial average futures rose 75, or 0.7 percent, to 10,532. Standard & Poor's 500 index futures rose 10.50, or 0.9 percent, to 1,132.90, while Nasdaq 100 index futures rose 20.00, or 1.1 percent, to 1,906.00.
The turbulence on Wall Street Thursday and ongoing European debt worries are overshadowing what is normally the biggest economic report each month in the U.S.: the Labor Department's monthly jobs report.
The Labor Department is expected to say employers added 200,000 jobs in April, according to economists polled by Thomson Reuters. However, as many as 120,000 of those new jobs could be tied to temporary hiring of U.S. census workers.