LCU, Maple Ridge, Ellen Foley, Danny Harman, Farmers' Market of Lincoln, U of I Extension, Hartsburg-Emden play, Lincoln Farmer's Market in Close Up
By Mike Fak
[May 07, 2010] Lincoln Christian University and Illini Christian Ministries are sponsoring a play therapy seminar on May 21 from 9 a.m. to 3:30 p.m. Jonna Tyler, a licensed clinical professional counselor, will present an introductory seminar on play therapy, including the basics of sand trays. The seminar will be at Richwoods Christian Church, 8115 N. Knoxville Ave. in Peoria.
---

Maple Ridge Care Centre, 2202 N. Kickapoo St., is celebrating National Nursing Home Week May 10-14.
May 10 will be Las Vegas Day and volunteer appreciation day. Participants will play casino games at 10:15 a.m. and at 2:15 p.m.
May 11 will be Mardi Gras Day and staff appreciation day. Making Mardi Gras masks will start at 10:15 a.m. and again at 2:15 p.m.
May 12, the center will have an Island Fun Day, with a luau starting at 10:15 a.m.
Thursday is Old Hollywood Day and residents day. The facility will play old movies, which will start at 10:15 a.m., followed by a Hollywood Party at 2:15 p.m.
On May 14, Maple Ridge will host a Texas Rodeo and family appreciation day. The care home will have a family barbecue with live music from 5 to 7 p.m.
Friends and family are welcome to attend all events. Those planning to attend Friday's meal are asked to call 735-1538.
---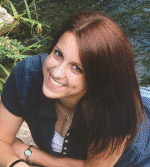 Ellen Foley has been named May Senior-of-the-Month at Mount Pulaski High School. She is the daughter of Bob and Sharon Foley of Mount Pulaski.
Ellen is a high honor roll student, president of student council, co-president of National Honor Society, treasurer of Spanish Club and co-captain of the basketball team. She is also a member of Drama Club and Spirit Squad. During her high school years has participated in WYSE academic team activities, as well as softball and volleyball. She is a member of St. Patrick/St. Thomas Youth Group.
Ellen plans to attend Southeast Missouri State University, where she has been awarded a university scholarship and a regional achievement award. She will major in communications disorders, and then plans to earn a master's degree in speech pathology.
The Senior-of-the-Month program is co-sponsored by Mount Pulaski Pharmacy and Johnson's Food Center. Monthly winners receive $100 savings bonds and are eligible to compete for the $1,000 Senior-of-the-Year award.
---
The 1st State Bank of Mason City and Illini Central High School have presented Danny Harman with the April Student of the Month Award. For demonstrating outstanding character, Danny receives a $50 savings bond from 1st State Bank and a reference work appropriate to his course of study from the Illini Central High School faculty.
He is the son of Tim and Chris Harman.
His classes this year are Human Physiology, Spanish 4, Contemporary History, Illinois History, Physical Education, Welding/Small Engines, Foods I, Foods II, and AP Literature and Composition.
In addition, he keeps busy with a number of extracurricular activities. He is basketball team captain, vice president of Spanish Club and a member of Future Community and Career Leaders of America. He is also an IHSA All-State Academic nominee.
In the summer, he is involved in basketball camp.
He plans to attend Lincoln Land Community College, where he will major in architecture and play basketball.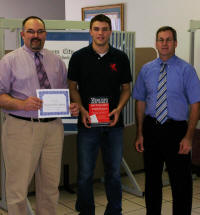 Principal Ed Jodlowski; Danny Harman;
and Bob Werner, executive vice president of 1st State Bank of Mason City
---

The original Farmers' Market of Lincoln will open its 2010 season Saturday, May 8, in Latham Park. The market plans to operate both Saturdays and Wednesdays through Oct. 30.
Saturday hours for the month of May are 8 a.m. until noon. Wednesday afternoon hours beginning June 2 are 3:30 to 6 p.m.
If you are interested in participating as a vendor, please contact Vickie Hum or Doug Fink at 217-732-6962 for more details.
---

University of Illinois Extension is launching a new online course series, Healthy Lifestyles, for child care and family day care providers. The first two modules are "Healthy Snacks," developed by Shirley Camp, Extension educator, nutrition and wellness; and "Choosy Eaters," developed by Patti Faughn, Extension educator, family life.
Each offers two continuing professional development units and has a $10 fee. You can visit and preview the site without registering for the course. See http://web.extension.illinois.edu/
healthylifestyles/.
To learn more about day care provider workshops offered in Logan County, contact the Extension office at 732-8289.
---

The Lincoln Farmer's Market opened on Saturday, May 1, and will run through Saturday, Oct. 30. They are open every Wednesday from 4 to 6:30 p.m. and every Saturday 7 a.m.-noon at Scully Park. Vendors offer fresh produce, baked goods, crafts, dog biscuits and roasted coffee beans. For a calendar of special events, entertainment and fundraisers for various organizations, check www.lincolnfarmersmarket.org.
---

Hartsburg-Emden School District 21 is putting on the show "Herr Kutter, the Barbaric Barber or The Villain Never Could Get His Part Right." The play will be Friday, May 7, and Saturday, May 8, at 8 p.m. Cost is $3 per student and $5 per adult.
Synopsis: It's 1900 in New York. Herr Hans Kutter, a villainous barber of German descent, has set his sights on the heroine, lovely Lorrie Ell, niece and heir-to-be of wealthy society matron and cat lover Kitty Litter, who owns numerous successful beauty salons. Kutter's plan is to marry Lorrie, then knock off Kitty, making his wife and him fabulously wealthy. He employs ditzy vamp Hedda Wood to entice away any competition for Lorrie's attention. Alas for Kutter, when Lorrie meets and falls in love with the hero, handsome young barber Harry Noggin, even Hedda can't come between them. Things come to a head (figuratively speaking) at Kitty's Hair Ball, a swanky fundraiser for cats. Other characters are Kitty's and Harry's employees and their customers, as well as a distraught stage manager and a stagehand who do their best to keep the play on track (and almost end up pulling their hair out!).
---
Got a good piece of news, information or something that we can all brag about? If you do, e-mail Mike and let us tell everyone about it. Plus you can win cash. Every submission, whether we use it or not, will get your name in the Close Up grab bag. At the end of the month we will draw a name and someone will get $25 just for dropping us an e-mail. If you wish, we will be happy to donate your winnings to the organization of your choice.
You can contact Mike at mikefak@lincolndailynews.com.
[MIKE FAK]