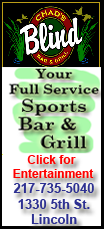 It's easy to see why generations of Southerners have flocked to the stretch of northern Gulf Coast affectionately called the "redneck Riviera" -- and why they're worried about whether a massive oil spill is about to ruin their down-home playground.
For more than two weeks, millions of gallons of crude have been spewing from the ocean floor south of Louisiana, ever since an oil rig explosion there killed 11. Oil reached more of that state's shoreline this week, and furthering fears that it's only a matter of time before it arrives at points east.
Matt Dagen can't help but look at the emerald green waters and spotless Alabama beach and worry that a lifestyle, not just wildlife and dollars, is in peril.
"I remember the Exxon Valdez," said Dagen, standing on the porch of The Hangout, a beach restaurant and entertainment complex he helps manage. "I just walked out here a few minutes ago and saw the gulls and tried to imagine what all this would be like with oil all over it."
The stretch of sugar-white beaches from Gulf Shores to Panama City, Fla., once was a laid-back regional draw, with families from Atlanta and Birmingham vacationing in beachfront homes on stilts with screened porches near pines and scrub brush. The rest of the world discovered the area in recent decades, and one-time fishing villages like Destin, Fla., now feature upscale condominium towers and designer shops that draw tourists from all points.
In Alabama's Baldwin County, home to the state's prime beach resorts, more than 4.5 million people visited the coast last year, according to the Gulf Coast Convention and Visitors Bureau, spending some $2.3 billion on everything from hotel rooms to Budweiser to seafood platters and temporary tattoos. In the Florida Panhandle, a new airport at Panama City with a 10,000-foot runway is expected to bring in even more tourists.
Even with jets and pastel high-rises and communities of sprawling second homes, much of the old character remains on the "redneck Riviera," a lighthearted tag that many locals revere even if tourism promoters cringe when they hear it.
Visitors can still get a room in a nice beachfront hotel for $90 this time of year. The Flora-Bama Lounge on the state line drew thousands on the last weekend in April with its 26th Interstate Mullet Toss at Perdido Key, Fla., which is exactly what it sounds like: a competition, complete with age and gender brackets, to sling dead fish through the air, discus-style.
Late at night, and sometimes earlier in the day, women take off their bras and toss them into the bar's rafters, where hundreds hang on clotheslines.
To the east in Panama City, kids love getting on small cruise boats to watch dolphins swim alongside looking for handouts, an old attraction that ticks off biologists and environmentalists. Teenagers still cruise the main beach road hooting and hollering and dodging the cops, just like their parents used to do.