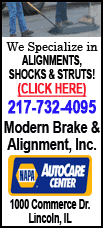 In Tuesday's proposal, the utility reportedly offered the cash-strapped state government $500 million upfront in exchange for guaranteed future profits on electrical rates.

ComEd and its parent company, Exelon Corp., also offered a pledge to commit $1 billion over the next decade to projects that they estimated would create 2,000 new "green" jobs in the state.

Quinn said he wouldn't comment on the proposal until he knew exactly what was in it.

David Kolata, executive director of the Citizens Utility Board, said the deal would be bad for consumers by locking in higher electrical rates than they would normally be paying.
Copyright 2010 The Associated Press. All rights reserved. This material may not be published, broadcast, rewritten or redistributed.