Cruise-in, YMCA basketball camp, Humane Society, graduation lists and the refresh button make Close Up
By Mike Fak
[May 18, 2010] There will be a cruise-in Saturday, May 22, from 5 to 9 p.m. in downtown Lincoln. The Railsplitter Antique Auto Club and Main Street Lincoln are the sponsors, and the public is invited. For more information, call 217-732-3519 or 217-737-8494, or visit http://railsplitterantiqueautoclub.webs.com/.
---

YMCA Girls Basketball Camp is scheduled June 21-24 for girls in first through sixth grade. Join Carol Wilson, Lincoln College women's basketball coach, as she instructs participants in the fundamentals of basketball, including dribbling, passing, shooting and defense. This camp will be at the Lincoln Center on the Lincoln College campus. Register today to avoid any fee increases. Call 735-3915 or visit www.lincolnymca.org.
---

The Humane Society of Logan County will be washing dogs on Saturday, May 22, from 10 a.m. until 2 p.m. at AutoZone, 1206 Woodlawn Road in Lincoln. Donations are accepted for the wash. Dog nail-clipping is available for an additional $7. Future dog washes are planned for June 26, July 24, Aug. 21 and Sept. 25.
---

This is the time of year where our youngsters are graduating. LDN, as always, has the list of graduation dates. Click here or use in the graduation schedule link in the Community section on the front.
Congratulations to all the students who have successfully completed another important part of their education. All area schools are invited to send us their graduation lists.
---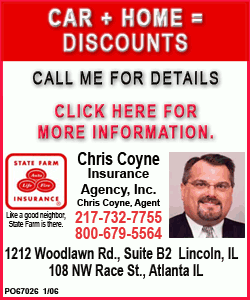 Hit "refresh." One of the most asked questions we hear is: "When are you folks done posting each day?"
For the most part, the majority of our edition is online at 8 a.m., but we continue to post through the morning, so make sure you hit the refresh button when reading to see what new stories have just been added.
We will continue to add breaking news as it happens, so donít forget to stop by during the day to see what is happening in our county during the day.
---
Got a good piece of news, information or something that we can all brag about? If you do, e-mail Mike and let us tell everyone about it. Plus you can win cash. Every submission, whether we use it or not, will get your name in the Close Up grab bag. At the end of the month we will draw a name and someone will get $25 just for dropping us an e-mail. If you wish, we will be happy to donate your winnings to the organization of your choice.
You can contact Mike at mikefak@lincolndailynews.com.
[MIKE FAK]