Park district notes
From Roy Logan, program coordinator

Send a link to a friend
[May 25, 2010] It won't be long until you'll hear the crack of the bat as it contacts the ball. The Lincoln Park District is taking tee ball registrations now. Tee ball is for boys and girls entering kindergarten through second grade. Players will learn the fundamentals of baseball, including hitting, fielding, throwing and base running. Emphasis is on sportsmanship, teamwork and fun. All athletes must wear sneakers and have their own ball glove. The league will play on Saturday mornings, beginning June 12, and will last six weeks. We'll take the Fourth of July weekend off. Chris Ciaccio will be the coach.
The annual free Fishing Clinic will be on Tuesday, June 1. Explore the fundamentals and safety issues of fishing. Herb Drier with the Illinois Department of Natural Resources will be here with displays and giveaways. He will teach young anglers how to tie on a hook, casting techniques and the usage of different baits. There will be drawings for fishing poles and equipment at the end of the presentation. Join us in the Railer Room at 6:30 p.m.

The free Fishing Derby is hosted at Hickory Lane Campground near Atlanta and sponsored by the Lincoln Police Department D.A.R.E. program. In the past, the pond has been stocked just days before the event. Prizes will be awarded in several different categories in this competitive but fun event. The wiener wagon will be on hand to offer hot dogs and sodas to the fishermen and their families. Parental approval is a must and parents are encouraged to attend. Meet us on the banks Saturday, June 5. We'll begin fishing at 9 a.m. and plan to be finished by noon. Ages 4-15.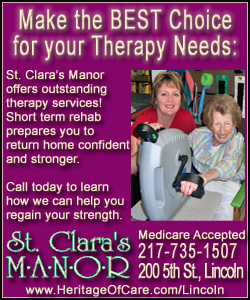 The park district is offering a special rate for a summer membership for college students. An in-district full-access membership will be available for $50. The membership will be valid until Aug. 15 and may be purchased at the front desk any time. This membership will include the weight room, cardio area, court space, and aerobics and spin classes. You must have a valid college ID in order to receive the special rate.
Upcoming programs on the horizon are tennis lessons, Creative Drama camp and Funny Business 101, a course taught by nationally syndicated cartoonist Julie Larson.
[Text from file received from Roy Logan, Lincoln Park District]