Lincoln Summer City Band, Soil & Water Conservation plant sale, Main Street Lincoln to honor merchants, Draw 4 Carroll winners, LCU and ICC team up in Close Up
By Mike Fak
[May 25, 2010] Volunteer musicians are needed for the Lincoln Summer City Band, sponsored by the Lincoln Area Music Society. The band welcomes adult and high school musicians from the area to participate. Rehearsals will be in the LCHS band room at 7 p.m. on Tuesday, June 1, and Mondays, June 7, 14, 21 and 28. The concerts will be in Latham Park at 7 p.m. on Sundays, June 13, 20, 27 and July 4. For further information, please call 732-3318 or 737-0150.
---

The Logan County Soil & Water Conservation District has extended the deadline for ordering prairie grasses and wildflowers until June 4. If you are looking for something new and would like to capture a bit of Illinois heritage at the same time, perhaps prairie plants are the answer.
The conservation district is offering native plants in 2.5-by-2.5-by-3-inch containers. They are warm-season plants and can be planted from May through September. The plants are well adapted to the geology and climate of Illinois, and they are relatively disease-resistant, long-lived perennials requiring little maintenance once established.
A variety of 15 different flowers and grasses are offered. Cost of the plants is $2 each. Orders exceeding 19 plants will cost $1.75 per plant. The deadline for ordering the plants is now June 4.
Please call 735-5508, ext. 3, or stop by the office at 1650 Fifth St. Road, Lincoln, for an order form or more information. Plants will be available for pickup at the office in mid-June.
---

May 23-29 is National Small Business Week and Main Street Lincoln is encouraging all who visit and shop in a small business to say "thank you." More than half of Americans either own or work for a small business. Small business creates 60-80 percent of new jobs in the country. Small businesses drive innovation, create 21st-century jobs and increase U.S. competitiveness.
Many of Lincoln's small businesses are owned by a local resident who puts many hours into serving the public. Their week is a six-day workweek and seven days a week during the Christmas holiday season. Their earnings are reinvested in their business or go to a local building owner as rent.
Main Street Lincoln invites you to shop downtown Lincoln and hopes you let the store personnel know you appreciate their presence in historic downtown Lincoln.
This Wednesday, May 26, merchants will be specifically honored at a breakfast meeting at 9 a.m. at the Main Street Lincoln office on the square.
Categories for recognition are service, sole proprietor, corporate and Main Street Lincoln board of director's choice.
---

Winners of the Carroll Catholic School Draw 4 Carroll at the Knights of Columbus on Sunday, May 23:
$1,000 winner -- Father Laible; ticket sold by Holy Family Church

$500 winner -- Jeanne Albertin; ticket sold by Russel Craig

$250 winner -- John Bishop; ticket sold by Angie Glick

$100 winner -- Margaret Blanford; ticket sold by Margaret Blanford
---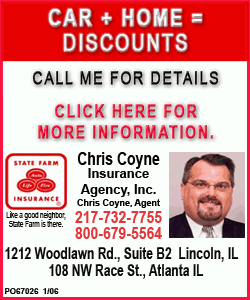 Illinois Central College and Lincoln Christian University are developing a "two plus two" program that allows students to complete two years at ICC in a pre-ministry program and transfer to Lincoln Christian University to complete a bachelor's degree in community transformation ministry. The program provides the knowledge, skills and attitudes "to serve in urban settings with pastors' hearts," according to President Keith Ray of Lincoln Christian University.
The first two years at ICC provide students with a broad general education background consisting of 64 credit hours, with suggested electives in such courses as Ethics, Psychology, Sociology, The Bible as Literature and more. The final two years at LCU provide more specialized and advanced focus in Bible and ministry, including 66 hours of course work and experiential learning. Pending approval of the four-year program by its accrediting agencies, LCU plans to offer its courses at the ICC North Campus for the convenience of Peoria-area students.
Leading the initiative were LCU President Ray, ICC President John Erwin and the Community Development and Service Institute of Peoria, under the leadership of Pastor Tony Pierce. CDSI is a group of experienced professionals and veteran urban pastors who will help provide the courses and experiential learning in Peoria to allow students to know firsthand what it means to transform communities.
---
Got a good piece of news, information or something that we can all brag about? If you do, e-mail Mike and let us tell everyone about it. Plus you can win cash. Every submission, whether we use it or not, will get your name in the Close Up grab bag. At the end of the month we will draw a name and someone will get $25 just for dropping us an e-mail. If you wish, we will be happy to donate your winnings to the organization of your choice.
You can contact Mike at mikefak@lincolndailynews.com.
[MIKE FAK]