Fly High with Butterflies is a program for those ages 7–10. It will be on Mondays, June 7, 14 and 21 from 1:15 to 2:45 p.m. Cost of the program is $15 and must be paid at the time of registration. At this butterfly program, topics will include anatomy of butterflies, butterfly life cycle, butterfly boxes and creating a butterfly garden. A creative snack at each session will be included as well.

Junior Master Gardeners is being offered to those ages 8–12 for six sessions on Mondays, June 7, 14, 21 and 28, and July 12 and 26 from 3:30 to 5 p.m. Cost of this program is $25. The program is modeled after the highly successful Master Gardener program and offers hands-on group and individual activities related to plant growth and development, soils and water, insects and disease, and environmental horticulture and ecology.

Registrations must be made in person at the Extension office on the northwest corner of the Logan County Fairgrounds before June 1. Forms are also available at web.extension.illinois.edu/logan/4hyouth.html.

If you have questions or need a reasonable accommodation to participate in the program, please contact 732-8289.
---

The Mount Pulaski Township Historical Society has announced that a reprint of the very popular "1836-1986 Mount Pulaski 150th Anniversary Blue Book" will be undertaken. This will be a limited edition -- one printing only. Orders will be taken at the Mount Pulaski Historical Museum, Salt Creek Attic and at http://www.mtpulaski175th.net/. The cost of the reprint, an exact duplicate of the 1986 edition except for the cover, is only $58.70 with tax. With shipping anywhere in the U.S., the cost is $69.70. The original first edition printing in 1986 cost $45. The printing will be done by the same company in Missouri, which is now under new ownership -- the previous longtime owner having retired.
---

Joe's daily walk started off uneventfully. But a few blocks from home, his foot caught on a fallen limb. He tumbled to the ground, breaking his hip. Unable to get up and with no one in sight to lend assistance, he was forced to lie on the ground until someone came along to help.
If he'd had a cell phone with him, he could have called for emergency assistance. By collecting cell phones that seniors can use in emergencies, the newly created Logan County Triad is working to make sure local seniors don't face this situation.
The Triad is asking for donations of cell phones, which will be provided to county residents over the age of 60 who do not have cell phone service. The donated phones will have personal information removed and will be programmed to only dial 911.
Donated cell phones can be dropped off at The Christian Village, 1507 Seventh St. The phone and all phone accessories should be placed in a plastic bag. All brands, makes and models will be accepted.
Seniors without cell phones who would like to participate in the program should call... (number to come).
The Triad is part of a national community policing initiative of law enforcement professionals, seniors and community groups working together to meet the crime-safety needs of seniors. Marcia Cook of The Christian Village and Sarah Powell of Senior Services are co-chairs.
---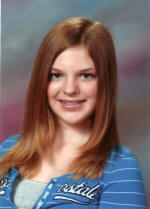 Caitlin Williams, a seventh-grader at Zion Lutheran School in Lincoln, has been selected as a ZLS May Student of the Month. Caitlin has been an honor roll student, and her school activities have included basketball, track and field, cheerleading, student council, and choir. She is a member of Zion Lutheran Church in Lincoln. Her church and community activities include the Zion Youth Group, Girl Scouts, nursing home visits and helping with VBS. Caitlin enjoys spending time with her sister and friends. Her parents are Rick and Jodi O'Hara of Lincoln.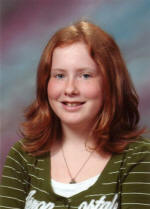 Rachel Marlin, an eighth-grader at Zion Lutheran School in Lincoln, has been selected as a ZLS May Student of the Month. Rachel has been an honor roll student, and her school activities have included speech team, volleyball, band, chimes choir, choir and student council. She is a member of Zion Lutheran Church. Her church and community activities include the Zion Youth Group, softball, soccer, horseback riding and tae kwon do. Rachel enjoys playing on her computer, bike riding, walking her dog, talking to her friends and watching Animal Planet. Rachel's parents are Doug and Angie Marlin of Lincoln.
---

Zion Lutheran honor roll
High honors, A
Eighth grade: Brad Miller
Seventh grade: Josh Mangano, Logan Thompson, Grace Walters
Sixth grade: Joe Ahrends, Elizabeth Ford, Lexie Groves
Fifth grade: Heather Heidbreder, Brooklyn Hermes, Zack Prather, Anna Sielaff, Isabelle Thompson, Hailie Williams
Fourth grade: Nathan Ford, Blake Hermes, Lane Prather
Honor roll, A-B
Eighth grade: Kathryn Arneaud, Justin Broom, Rachel Marlin, Megan Opperman
Seventh grade: Kaya Albert, Aaron Butler, Tori Hoban, Emma Nobbe, Jim Sielaff, Faith Smith
Sixth grade: Teran Madigan, Taylor Rich, Ben Steiner, Anna Walters, Breanna Whittaker
Fifth grade: Danielle Burgrabe
Fourth grade: Ashlan Broom, Emma Cooper, Katie Hunsley, Emma Ritterbush, Mya Roberts
Third grade: Francesca Adubato, Megan Benner, Jacalyn Green, Noah Henry, Katie Lynn, Grace Montgomery
Honorable mention, B
Seventh grade: Alysa Cox, Elizabeth Tripplett, Caitlin Williams
Sixth grade: Ashley Baker, Rachel Lockenour, Andrew Simmer
Fifth grade: Claire Conrady, Sydney Johnson, Kalyn Roberts
Fourth grade: Gabrielle Cox, Tori Tripplett
Third grade: Carter Brown, Carson Madigan, Madelyn Steiner
---

West Lincoln-Broadwell honor roll
(High honors 3.6-4.0; honors, 3.0-3.5)
Eighth grade
High honors: Kenneth Bacon, Daniel Hemenway, Grant Johnson, Lexee Klockenga, Livvie Muck, Joey Olden, Adam Papirnik, Michelle Paulus, Tiffany Strickler, Sam Tiffany, Alex Turner, Hunter Wieber
Seventh grade
High honors: Leah Anderson, Tara Bradley, Adam Conrady, Andrew Coop, Levi Curry, Payton Ebelherr, Kyle Fitzpatrick, Preston Marten, Lexi Morris, Betsy Olson, Jordan Yarcho
Honors: Brock Byrge, Kylie Fitzsimmons, Dalton Presswood
Sixth grade
High honors: Jeris Bender, Kathryn Benner, David Biggs, Kaylyn Hoffert, Adrienne Klockenga, Emily Martinez, Garrett Schreiner, Brook Soebbing, Chase Turner, Jordan Wood
Honors: Brycen Hicks
---

Washington-Monroe honor roll
Fourth nine weeks
High honors
Third grade: Kacey Bennett, Laura Centers, Tony DiPasquale, Corey Harris, Wyatt Collier, Cassie Everson
Fourth grade: Jaiden Aeilts, Ryan Boyd, Titus Cannon, Tabitha Cooley, Abbigayle Parrish, Tate Sloan, Justin Woods, Luke Bennett, Taylor Carter, Ethan Goodey, Kelsey Lee, Nathan Long, Arianna Spencer
Fifth grade: Emily Bergman, Danielle D'Andrea, Christian DeVore, Laura Hurley, Alex Linares, Noah Morgan, Lindsey Myers, Macie Rankin, Ashlyn Scruggs, Connor Aeilts, Honna Doolin, Nolan Hullinger, Cole Kindred, Bryson Kirby
Honors
Third grade: Jacob Franklin, Hilary Lucas, Brenden Eigenbrod, Kennedy Freese, Sara Harding, Bryce Watkins, Trey Whitetree
Fourth grade: Allena Benninger, Grace Bossingham, Adriana Doolin, Isaiah Lane, Aubria Cannon, Justin Hatfield, Brayden Hunter, Josh Linares, Makenzie Murphy, Shannon Rahn, Hailey Ransdell, Kevin Rhoades, Kisha Selph, Michael Quarrell
Fifth grade: Martin Glick, Samantha Johnson, Devon McGrew, Austin Newton, Trent Whitham, Hunter Jessee, Kaelin Butterfield, Erika Dzekunskas, Shelbi Fisher, Kyle Freese, Chenille Hubner, Stephanie Parrott, Justin Ruff, Josephine Shivers, Seth Turley
Honorable mention
Third grade: Ivy Pierce, Andrew Pitts, Luke Rogers, Natalie Schaller, Destini Thompson, Jatrell Belt, Aaron Duvall, Kaleb Franklin, Haley McDaniel, Harley Naugle, Jillian Ruff, Aven Thompson, Maddie Yeates, Carl Fisher
Fourth grade: Drew Bacon, Jason Beverman, Alana Cosby, Brody Koeppen, Braiden Tisdale
Fifth grade: Ashanti Bonaparte, Sydney Dial, Jacob Huskins, Brock Laubenstein, Katelyn Newby, Tyler Albertson, Austin Gray, Bryson Maxey, Selena Quezada, Izzy Robbins, Nate Sprague
B.U.G., Bringing Up Grades
Dylan Lessen, Justin Miller, Rachel Wilson, Aleaya Turley, Skylar Hashman, Briona Brown, Nic VonderHeide, Kirklin Routson
---

Cub Scout Pack 111 thanks the 35 businesses and organizations that have given unselfishly to the pack over the last year by contributing meeting space, food, supplies and donations for ScoutSweep, Cub Scout Day Camp, tours and other events.
For the complete list of area businesses who helped, click here.
---
Got a good piece of news, information or something that we can all brag about? If you do, e-mail Mike and let us tell everyone about it. Plus you can win cash. Every submission, whether we use it or not, will get your name in the Close Up grab bag. At the end of the month we will draw a name and someone will get $25 just for dropping us an e-mail. If you wish, we will be happy to donate your winnings to the organization of your choice.
You can contact Mike at mikefak@lincolndailynews.com.
[MIKE FAK]