Click It or Ticket: IDOT and Illinois law enforcement ramp up efforts for Memorial Day weekend

Send a link to a friend
[May 28, 2010] CHICAGO -- The Illinois Department of Transportation and the Illinois State Police have announced their plans to intensify efforts to reach unbuckled motorists over the Memorial Day weekend. The current Click It or Ticket campaign began on May 14, led by the Illinois State Police and hundreds of local law enforcement agencies from every corner of the state. Law enforcement is not finished, as there are hundreds more safety belt enforcement zones and other patrols planned for the heavily traveled holiday weekend.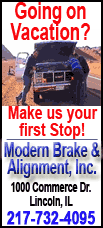 This final push has one goal -- to save lives during the Memorial Day weekend, which is noted as one of the deadliest times on Illinois roads. Last year in Illinois, 30 people died in 17 crashes during the holiday period (6 p.m. on May 22, 2009, to midnight May 25). This compared with eight people dying during the same time frame in 2008. Last yearís Memorial Day traffic fatalities are made even more significant because total fatalities in 2009 reached an 88-year low of 911.

The Click It or Ticket campaign has helped push safety belt use to nearly 92 percent in Illinois, and the result has been lives saved. Illinois saw a historic low in traffic fatalities last year, and a safe Memorial Day weekend will help that number drop even lower in 2010.

"Overall, fewer people are dying on Illinois roadways because more people are buckling up, and Click It or Ticket is one good reason for that. Itís simple -- if it takes a ticket to save a life, then we support it," said Illinois Department of Transportation Secretary Gary Hannig.

"We are proud to partner with the Illinois Department of Transportation and law enforcement agencies throughout the state to prepare the public for the summer driving months," said Jonathon E. Monken, acting director of the Illinois State Police. "Our priority is not to see how many tickets can be issued during the campaign. Our goal is to remind the motoring public that seat belts play a vital role in saving lives and preventing serious injuries. Ensuring that people are buckled up is paramount to accomplishing our goal of fewer fatalities this Memorial Day weekend."

(See table on Illinois Memorial Day weekend crashes, injuries and fatalities for 2005-2009.)
Click It or Ticket is administered by the Illinois Department of Transportationís Division of Traffic Safety and supported with federal highway safety dollars made available from the National Highway Traffic Safety Administration. For more information about Click It or Ticket in Illinois, go to www.buckleupillinois.org.
[Text from Illinois Department of Transportation file received from the Illinois Office of Communication and Information]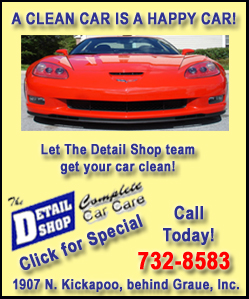 ---
Illinois Memorial Day weekend crashes, injuries, fatalities*
Crash severity

Individuals

Year

Fatal

Injury

Total

Killed

Injured

Average Fatalities/Day

2009

17

N/A

N/A

30

N/A

9.23

2008

7

509

2,655

8

726

2.46

2007

11

537

3,040

11

839

3.38

2006

20

659

3,159

20

1,004

6.15

2005

14

635

2,930

15

1,004

4.62
*Crashes that occurred from 6 p.m. on Friday before Memorial Day to midnight of Memorial Day
[Table copied from Illinois Department of Transportation file]