Weeball is an instructional program for kids 4-6 years old. They will be taught basic baseball skills, including the proper way to throw, catch, hit and run bases. An abbreviated game will also be played. This program meets on Saturdays, June 5-26.

Sports of All Sorts is a program for kids 4-6 years old, introducing them to soccer, basketball, baseball and football. This program will meet June 14-17 from 9:30 to 10:30 a.m. Find out which sport your child is interested in.

YMCA Girls Basketball Camp is planned for June 21-24 for girls in first to sixth grade.

Carol Wilson, Lincoln College women's basketball coach, will instruct participants on the fundamentals of basketball, including dribbling, passing, shooting and defense. This camp will meet at the Lincoln Center on Lincoln College campus. Register today to avoid any fee increases.

YMCA Golf Clinic is for kids in kindergarten to eighth grade. Sessions will be at the Lincoln Elks Club golf course. Session A will be held June 21-24, when participants will be taught the fundamentals of golf, including club choice, form, stance and swing technique. Lessons will be customized to improve each participant's skills.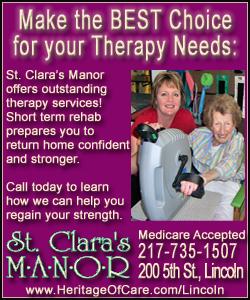 YMCA swim lessons, Session A, will begin June 21 at the Lincoln Elks Club pool. Lessons are available in either the morning or the evening. This program is for kids 6 months to 12 years with various skill levels. Some classes have started waiting lists, so don't delay, sign up today.
Travel "Around the World in 4 Days" with the YMCA Summer Art Camp and Atlanta Art Camp. Marion Doble will help participants make art from many countries, including masks from Africa, painting from France and so much more. Both camps are for kids in first to sixth grade and will meet June 21-24. Summer Art Camp will be at the Y Activity Center in Lincoln from 9 to 11 a.m. The Atlanta Art Camp will be at the Atlanta Park from 1 to 3 p.m.
[Text from file received from Lincoln Area YMCA]