Ralph Hopp Jr.

Send a link to a friend
[November 11, 2010] LINCOLN -- Ralph Berger Hopp Jr., 60, of Lincoln, died Tuesday, Nov. 9, 2010, at his home.
A memorial gathering and celebration of life is scheduled for 1 p.m. Saturday at Holland Barry & Bennett Funeral Home in Lincoln.

Mr. Hopp was a longtime employee for the state of Illinois.

He served in the U.S. Navy during the Vietnam War.

He was born Oct. 19, 1950, in Lincoln. His parents were Ralph Berger Hopp Sr. and Francis Morris.

He is survived by his three children, Larraine (and Daniel) Wimberley of Rockford, Ralph Berger Hopp III of Carnegie, Okla., and Patricia (and Michael) Eversole of Poplar Grove; six grandchildren; three sisters, Theresa (and Terry) Overbey of Atlanta, Linda (and Alan) Crum of Waynesville and Alice Coulter of Sherman; and one brother, Dick Hopp of Florida.

He was preceded in death by his parents.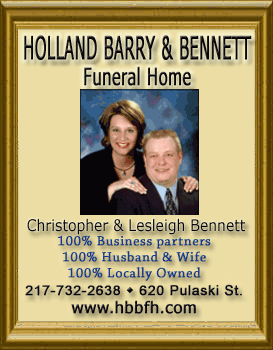 Memorial donations may be made to the family and will be accepted at the funeral home.