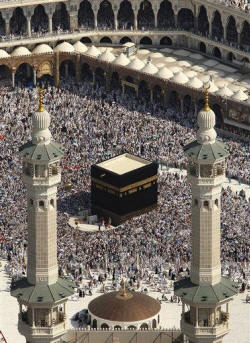 Pilgrims wrap up Muslim hajj in Saudi Arabia

Send a link to a friend
[November 18, 2010] MECCA, Saudi Arabia (AP) -- Crowds of Muslim pilgrims are performing the final rituals of the annual hajj, stoning symbols of the devil and circling the Kaaba, Islam's holiest site.
Some 2.8 million Muslims from all over the world were participating in the pilgrimage this year, and many are finishing the rites on Thursday.
The pilgrims walked seven times around the Kaaba, a cube-shaped shrine in Mecca, in what is known as the "farewell" circumambulation.