The Harlem Ambassadors took down the Lincoln All-Stars in an all-for-fun game at the Lincoln Center of the campus of Lincoln College Saturday night. The Lincoln All-Stars, made up of local residents, fell 97-80.

But the final score itself was actually a bit misleading. The Ambassadors awarded the All-Stars 45 points at halftime -- an act of kindness, humor and perhaps mercy.

Not that the score really mattered to children in attendance.

The kids took much more joy in the Ambassadors' combination of trick plays, slam-dunks, dance moves and humorous sketches.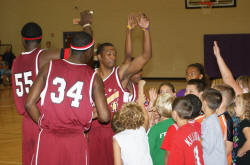 Game action was stopped at various points, usually because of the antics of Ambassador guard Julia Hargrove. At one point, Hargrove had the game's trio of referees -- Allen Pickering, Tom Zurkammer and Jeff Nelson -- doing a dance routine at the free-throw line.
There were other laughs too, like when West Lincoln-Broadwell girls basketball coach Kari Froebe pulled an Ambassador's shorts down during a free throw, revealing a pair of SpongeBob SquarePants boxer shorts underneath.
That was the favorite part for JT Guzzardo, one of the dozens of children in attendance.
JT described the game as "amazing" and estimated the number of Ambassador slam-dunks at 30.
JT's father, Nick Guzzardo -- who owns and operates Guzzardo's Italian Villa in downtown Lincoln -- was one of the members of the Lincoln All-Stars.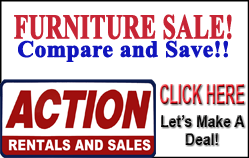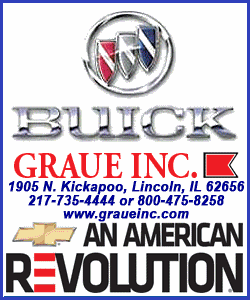 Despite playing basketball just sparingly since his days as a member of the Lincoln Community High School basketball squad in the early 1990s, Guzzardo said he enjoyed being out on the floor against the Ambassadors.
"They're really good. It was a lot of fun," said Guzzardo. "They were all nice, polite. It was a good time. It was entertaining and the kids enjoyed it. That's the main thing."
Asked to assess his own performance, Guzzardo quipped, "It's just like riding a bike. You get back out there and try. But I'm 50 pounds heavier than I was the last time I rode that bike."
Other members of the Lincoln All-Stars were Josh Komnick, former LCHS star guard and Lincoln College-Normal graduate; Josh McClallen, LCHS assistant boys basketball coach and LC graduate; Jon Astroth, Lincoln College president; Robert Kelly, Logan County paramedic; and Kent Froebe, Lincoln Junior High principal.
The team was coached by Ken Greenslate, Lincoln police chief.
[By JUSTIN TIERNEY]