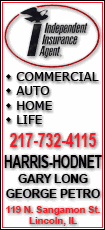 Along the way they have added staff with excellent qualifications and a deep love for all animals and have made Timbercrest a very well known name in the livestock community as well as with small animals and their owners.

Miller defined his business by saying: "Timbercrest Vet Services is a very traditional practice where we do most of the small animals when it comes to cats and dogs. We have not extended our services to exotics or pocket pets. On the large animals, we do horses, cows, pigs, goats, most all farm animals."

Miller said that business has been very good at Timbercrest, and now after seven years, he has decided to spread his wings and open another service in the city of Lincoln.

Railsplitter Veterinary Wellness Center is scheduled to open Nov. 1, and they are currently taking appointments for new clients so that they can hit the ground running.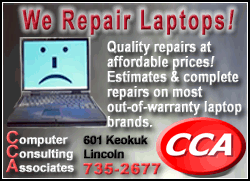 When Miller graduated from high school, going to college and becoming a veterinarian were not the top items on his "to do" list. Growing up in the New Holland area, he had an interest in agriculture and livestock and hopes of one day owning his own farm.
He said he owes a lot of his present-day success to his high school ag teachers, Bill Bree and Don Miller, who continually encouraged him to go to college.
One day, while Miller was at work at Heritage Pork south of Lincoln, he received a visit from Mr. Freeman of Lincoln College.
"I think Mr. Bree put a bug in his ear that he needed to come see me," Miller said. "He asked me if I wanted to go to college in Lincoln, and I said no, I just wanted to keep working."
But Freeman was not one to give up easily. He left Miller that day but soon returned with a proposal that would give Miller his first year of upper education free of charge. Miller then decided to give it a shot, and as the saying goes, the rest is history.
He attended one year at Lincoln College, then transferred to Illinois State University, where he graduated in 1994 with a bachelor's degree in animal science. He then moved on to Kansas State University and in 1998 graduated magna cum laude with a degree in veterinary medicine.
After opening Timbercrest, Miller continued his studies and in 2009 graduated from the University of Illinois Executive Veterinary Program in Swine Health Management.
Miller, known to his patients as "Dr. Jay," said that staying abreast of the ever-changing and improving technology of veterinary medicine along with hours of ongoing education and in-service training for the entire staff are just a few of the components that have helped Timbercrest gain a reputation of being a state-of-the-art service.
"Our biggest driver is customer service," he said. "We try to make the experience very positive for the owner.
"About 50 percent of the people who walk in the door, it is because they need routine care and those are happy times," he said.
"The other half that walk in the door has something abnormal with their pet that needs a doctor's attention. We try to be very compassionate. We also try to bring good customer service, and we try to be very modern."
The state of Illinois requires 20 hours a year of continuing education for vets, but Miller said he personally averages 60 to 100 hours a year of ongoing education.
"You have to stay modern, you have to stay up to date," he said.
In addition, he shares the knowledge he gains with all of the staff.
"We also believe in training our staff members," he said. "We have in-services at least once a month. We keep our staff up to date and current on products as well as new procedures and what we can offer our clients."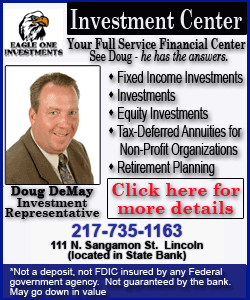 In the field of new technology, Miller said that the vet services offer what comes down to a digital X-ray program. The X-ray is still taken much as any other, but instead of producing a large piece of film, the image is stored digitally on a computer.
Miller said that with this technology, he can take advantage of moving the X-ray around to look at specific problems and zoom in on those areas to see in finer detail what is occurring in the patient. This offers a huge advantage in making a timely and accurate diagnosis.
In addition, an animal's X-ray can be viewed by its owner, side by side with a sample picture of what would be "normal." Pharis said that side-by-side comparisons help the pet owner understand the situation and make them more comfortable with the doctor's diagnosis and treatment of a condition.
Another big part of offering quality care, to small animals especially, is attitude. Pharis, whose role at the clinics is as practice manager, explained that the clinic staff has always lived by the golden rule of "Do unto others as you would have done unto you."
She explained that while the staff is well versed in many illnesses and trauma situations that befall small animals, the pet owner is not.
When their pet is ill or injured, it is a traumatizing experience for both the animal and the owner, and the staff at Timbercrest, and soon Railsplitter, put themselves in the owners' shoes. Realizing what that person is going through makes them more compassionate, more sensitive to the needs of the "pet parent."
And finally, some of their greatest assets at the two veterinary services lie in their staff. Currently, including Miller and Pharis there are nine people involved in animal care, the majority having degrees related to animal sciences.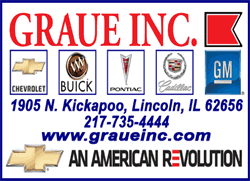 Dr. Teal Summitt joined the team this year as their second doctor of veterinarian medicine. She's a graduate of Purdue University with a degree in veterinary medicine.
Michelle Godziebiewski is a certified veterinary technician with a bachelor's degree in veterinary technology. She came to Timbercrest in November of 2009.
The rest of the Timbercrest team includes vet assistant Kari Wurth, vet assistant Kerianne Vrbas, business manager Carrie Lynch, and receptionists Kara Atwater and Dana Daugherty.
In addition to these, Cameron and Evan Jodlowski, who are currently high school students, work part time in the kennel area.
Miller said that as he prepares to open Railsplitter in Lincoln, he will begin with rotating the current staff members between the two locations. As the business grows, he will add more staff as needed.
___
This concludes Part 1 of our Business Spotlight on Dr. Jason Miller, Timbercrest Veterinary Service and the soon-to-be-opened Railsplitter Veterinary Wellness Center in Lincoln.
In the second and closing segment, Miller and Pharis will discuss the new facility in Lincoln and some special events coming up before the end of the year at both clinics.
[By NILA SMITH]
Related links