Park district notes
From Roy Logan, program coordinator

Send a link to a friend
[September 03, 2010] With fall activities and shorter days, our workouts move indoors. From college-bound to our seniors we have a program for you: aerobics to Zumba and everything in between, like pickleball, indoor tennis, basketball, volleyball, our walking track, cardio area and free weights. There is something for everyone.
Students attending Heartland, Lincoln College or Lincoln Christian University are eligible for a reduced price full-access membership. This membership is for the fall semester. A full-access membership allows the member to use the court spaces, cardio area and free weights as well. Aerobics and spin classes are also included.

Senior alert! We have an exercise class designed just for you! Join us Monday, Wednesday and Friday at 9:45 in the aerobics room. Wear comfortable, loose-fitting clothing and tennis-style shoes. Jacki Pavlik, certified aerobics, spin and personal trainer, will lead you to a healthier body. This class will focus on increasing mobility, flexibility, balance, and muscular strength and endurance. Each class has a different format. Members with a circuit or full-access pass may participate in the program for no extra fees. Nonmembers pay $4 per class.

Our aerobics schedule has been added to our "Fall into Fitness" promotion. We are fortunate to have great instructors and many of them are eager to share their new classes with you. We urge you to pick up a copy of the schedule on your next workout or visit us online at www.lincolnparkdistrict.com. You'll find aerobics schedules and class descriptions on our "Facilities & Parks" page. Scroll to the bottom of that page and click on the links.

Pickleball is a simple paddle game played with a special slow-moving perforated, plastic ball over a tennis-type net on a badminton-sized court. Our pickup league plays on Tuesday and Thursday mornings at 10. Come out and give it a try. Many of us are learning the game together and you're invited to learn along with us. This is a very popular sport in many retirement communities.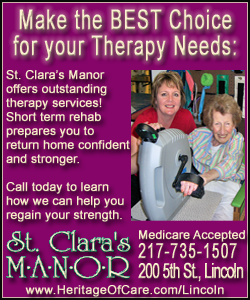 Calligraphy -- elegant handwriting or the art of producing such writing. You can learn that art right here at the park district. We welcome Harry Tibbs as our instructor. Harry is a retired graphic artist and accomplished calligrapher. This one-hour class will begin Tuesday, Sept. 21, at 7 p.m. for four weeks. This is an art form that may be used many times throughout the year. Preregistration is strongly recommended so that ample supplies will be available. An introductory calligraphy pen and paper will be provided and included in registration fees.
It's time to start signing up for Fall Co-Rec Volleyball. Team registration will begin on Tuesday, Sept. 7, and close on Tuesday, Sept. 21. Roster packets and league information are available at the front desk. Players must be high school age or above to be eligible. Teams are coed. The season will begin on Tuesday, Oct. 5. Games are played on Tuesday evenings and the season will run approximately 10 weeks.
[Text from file received from Roy Logan, Lincoln Park District]