Participants are reminded that only container glass will be accepted during the collection. Container glass is any glass that originally held either a food or beverage product. All colors of glass will be accepted. The recycling program will no longer accept broken glass due to safety issues.

Participants are asked to thoroughly rinse all containers and to remove all plastic or metal lids and rings. Labels, either foil or paper, may be left on the containers. Due to the large volume of glass being collected, the recycling program reserves the right to refuse any glass that does not meet the preparation guidelines.

Glass is not to be left at the site prior to the hours of the collection.

The glass recycling program does not accept light bulbs or florescent lights, window glass, mirrors, ceramics, dishware, or CorningWare items. Participants are asked to comply with the glass collection guidelines, as a single piece of ceramic material or a light bulb can contaminate an entire load of glass.

Information on the county's recycling programs is available through the Logan County Joint Solid Waste Agency by contacting the office at 217-732-9636 or visiting the agency website at www.co.logan.il.us -– select "Joint Solid Waste Agency."
---

The following are the winners of the Aug. 29 Draw 4 Carroll drawing that took place in the wine tent during the balloon fest:
Winner of $1,000: Diane Laugel; seller, Diane Laugel

Winner of $500: Gautam Patel; seller, Tia Taylor-Morrow

Winner of $250: Etta M. Krotz; seller, Bob Krotz

Winner of $100: Sam Knox; seller, Brian Lee
The next Draw 4 Carroll drawing will take place on Saturday, Sept. 18, at 2 p.m. at the Railsplitter Festival.
---

Land of Lincoln Honor Flight wishes to thank individuals, organizations and businesses for their generous donations and efforts that have made it possible for 91 more World War II veterans to fly Sept. 14 on a third charter flight from Abraham Lincoln Capitol Airport in Springfield to Washington, D.C., to see the World War II Memorial, Arlington Cemetery and other memorials.
The public is invited to a "welcome home" ceremony for these veterans when the plane arrives back at the Springfield airport at 9:40 p.m. on Sept. 14. Wear red, white and blue; bring flags and signs to show your appreciation.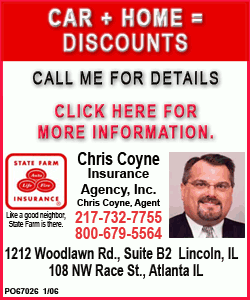 Veterans on this flight come from the towns of Alton, Athens, Bartonville, Bethalto, Bloomington, Bunker Hill, Carrollton, Chatham, Clinton, Danville, Divernon, East Alton, Fairbury, Godfrey, Havana, Hopedale, Jacksonville, Lewistown, Lincoln, Litchfield, Mackinaw, Marquette Heights, Mason City, Morton, New Berlin, Normal, Pekin, Peoria, Peoria Heights, Petersburg, Riverton, Roanoke, Rushville, Springfield, Taylorville, Washington, Weldon and Hattiesburg, Miss.
Applications from veterans are being accepted for future flights, which will occur in 2011. Names continue to be added to the waiting list, which currently numbers 260 veterans.
The Land of Lincoln Honor Flight board welcomes the chance to speak to organizations, businesses, churches, conventions or other groups about the mission, future flights, guardian duties, fundraising and donations.
For more information about this flight, how individuals and groups can help the mission, how to obtain applications, how to become a member, and to learn more about Land of Lincoln Honor Flight, go to www.landoflincolnhonorflight.org or contact Ray Wiedle: home phone 314-427-2317, cell 217-622-1473, e-mail arwiedle@sbcglobal.net.
---

Holland Barry & Bennett Funeral Home is now taking reservations for the 2011 mega wall calendar. They are free and may be delivered to you if you wish when they come in. Just call 217-732-2638 or stop by the funeral home at 620 Pulaski St. in Lincoln.
---

Got a good piece of news, information or something that we can all brag about? If you do, e-mail Mike and let us tell everyone about it. Plus you can win cash. Every submission, whether we use it or not, will get your name in the Close Up grab bag. At the end of the month we will draw a name and someone will get $25 just for dropping us an e-mail. If you wish, we will be happy to donate your winnings to the organization of your choice.
You can contact Mike at mikefak@lincolndailynews.com.
[MIKE FAK]