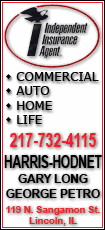 "We have no life!" laughs Pam White of White's Auction Service.

As she sits at a table folding sale bills and stuffing them into hand-addressed envelopes, husband Dan sits nearby telling stories of interesting auctions they've done, people they've met and the bidders who have battled over something to the point of making them laugh.

Dan laughs and says, "I'm going to be 68 years old in December. I've gotta stop this." His statement brings a "HA" from Pam and the unspoken words are, "Like that's ever going to happen."

But as they talk about the crew they have, the family that is so involved in their various businesses and the friends they have made over the last 25 years, it soon becomes obvious that these two people may possibly be two of the happiest people in Logan County.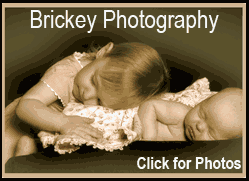 The auctioneer business began as something that had been in the back of Dan's mind for years and years. Then one morning while sharing a cup of coffee with a neighbor, the idea popped out into the open.
"We were sitting at my kitchen table and I said, 'You know, I'd sure like to go to that auctioneer school in Iowa and learn to be an auctioneer.' My neighbor said, 'Go. I'll take care of your livestock. Just go do it,'" Dan explained. "Then later I was talking about it with some other guys up around Atlanta, and one guy said, 'We need another good auctioneer. If you'll go to school, I'll pay for your education."
White said he declined the offer of money from his friend, but it was just enough encouragement to get him to take that step.
When he returned from school, it was those same friends and neighbors who helped him get started. They offered support in any way they knew how, from recommending him for auctions to even offering to help him on the farm so he could devote time to his second career.
Pam recalls that getting the business off the ground was hard, but as they did auctions and folks in Logan County got to know them and the services they offered, it became much easier to build the business.
Over the years, the business has indeed grown. The Whites started with occasional auctions and then opened a house in Beason for a time, where they averaged one auction a month.
In 2004 they opened the house at 501 S. Kickapoo in Lincoln, and today, the company runs approximately 40 auctions a year, operating from January through November.
Dan White knows that a portion of their success comes from the people they have working beside them in the business.
In 2001 Gary Morris and his wife, Thelma, became a big part of the White Auction House. Pam commented: "When we hooked up with them, it was just a perfect match for us."
Gary works beside Dan on the auctioneer's platform, and Thelma is in the office working the clerk position for each sale.
In addition to the Morrises, Ed Voyles also comes in on occasion as a second auctioneer.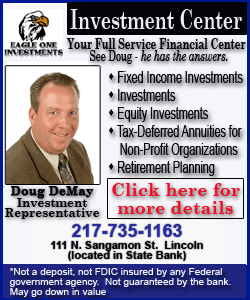 The Whites also have a lot of family involved in the business. Their daughter, Jennifer Craig, who is a physical education teacher at Lincoln Community High School, helps a lot on weekends. Dan's brothers, Darrell and David, are also often involved the day of the auction, holding up items and helping to call bidders, and their granddaughter often sells pop to thirsty buyers.
The Whites' son, Jason, is pretty much the one in charge of the farm now, though Dan says that when jobs on the farm need more than one person, he's still the one who goes and makes up that second man.
In addition to farming, Jason is also a DJ for a party entertainment business.
All together, the Whites have 13 part-timers on their auction crew. Dan said that most of the crew members are retired people and are able to more or less work when they want to.
Typically, the day of the sale, it takes seven people to keep things running smoothly, and out of the 13 available, they rarely go short-handed.
"We have such a good staff," Pam said. "We are all friends, we all get along. We get together of a morning for coffee and doughnuts, sit around and visit, and have a few laughs before we set to work."
She went on to say that another part of the business that makes it so enjoyable is the relationships they have developed with their buyers.
"We have customers who consistently come to our sales and they have truly become our friends. It's like we're all family," she said.
Many of the White auctions involve selling antiques and collectibles. Dan and Pam said that over the years they have learned the value and importance of certain antiques, and it helps them to present the items well at an auction.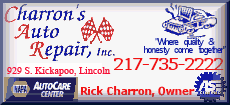 When Pam was a youngster, her mother enjoyed visiting antique stores, and Pam had to tag along. Pam said she learned quite a bit from going to antique stores with her mother, even if it was somewhat grudgingly so.
She said that at the time, antiques just didn't hold any interest for her. Over the years that has all changed, and she now has a great love and appreciation of antiques, which benefits the auction service when they are setting up a sale.
Dan laughed and said, "And now, when we do take time off, guess where we go: antique stores!"
___
Tomorrow we will wrap up our Business Spotlight on White's Auction Service. In the second part, the Whites will talk about their process of putting on an auction and will share some information about a huge liquidation that is under way right now with enough antiques and collectibles to take up two months of every-other-weekend auctions.
[By NILA SMITH]
Note: White's Auction House is a regular advertiser with LDN. Their sale bills are posted up to two weeks in advance in the Auctions section of LDN Classifieds.