The sign said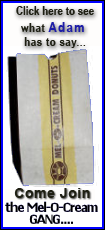 : "If idiots could fly, this place would be an airport."

The sign wasn't easy to find. It was nestled in a hodgepodge of pictures, signs and souvenirs crammed on a few shelves behind a cluttered counter that noted a lifetime of business service to the community.

The sign denoted the disposition of the owner of the business perfectly. Dick Logan never had a problem giving his opinion or telling someone they were nuts. He also never had a problem running out on a blazing hot day or a frigid cold evening to help someone get their vehicle started. He would admonish you for perhaps leaving your lights on and draining the battery. But then when you asked him how much to pay, he would say, "Catch me next time."
Dick, for all his acting as a curmudgeon, carried a heart of gold those days he was in business. He held bills for customers until a check came in or taxes were refunded. The stack of bills owed him from people he had put back on the road without getting paid could be measured in inches.
He and his shop were dinosaurs in a day and age when modern technology and vehicles require high-cost equipment for repair work on vehicles. Dick didn't get involved in modern cars. Instead he continued to just work on the old sleds that many people in Lincoln still drive and still depend on. His prices, his ability to "jerry-rig" a problem so a vehicle would run, were as important to many in this community as having a trusted family doctor.
Oh he did brakes and exhaust work and changed the oil on newer cars. But a great deal of his customer base were those people with older cars that a person was trying to get to last just one more year. They came to Dick to make it so.
Often in an afternoon, a customer would find Dick in the shop listening to music and singing a new song he needed to learn for Holy Family Church's choir. Other times one would find him buried deep in a stack of papers having something to do with the Knights of Columbus or the Logan County Board.
Dick always had a great love for Holy Family. He also loved his time with the Knights of Columbus and he most assuredly loved his days on the Logan County Board. Dick never got tired of the joke when visitors called his shop "Logan County Courthouse West."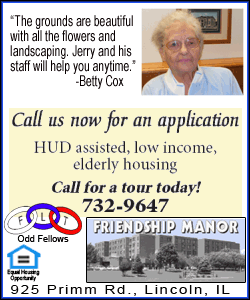 Dick had to leave those loves behind this past spring when a series of strokes left him with impaired balance and memory loss.
Dick is living with family in Missouri, but he is coming home this weekend.
Initially it was planned as just a visit, but the Knights decided to turn the day into a benefit to help Dick and his family with all the expenses that a serious medical condition incurs.
The event will be at the Knights of Columbus Hall, starting at 2 p.m. and running till 6 p.m.
There will be food available for a donation, as well as baked goods and a 50/50 drawing.
The Knights' famed group of performers will put on skits starting at 4 p.m.
And the list of silent auction items is growing every hour. Already over 90, there are gift baskets, Illini tickets, gift certificates and more that should have everyone wanting to stop out to seal a few bargains and help Dick.
A large crowd is anticipated, but that shouldn't deter one from stopping by. It is our time now to do something for Dick. The way he did for us for so many years. It's time to say thank you for a lifetime of service to all of us.
[By MIKE FAK]
Click here to respond to the editor about this article.