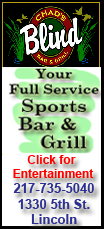 Subsequently, Lincoln coach Jared Shaner has taken a no-excuses approach with his defense in practice this week.
"I've pretty much told them that, at some point, you have to fix things if you want to get a different result," said Shaner. "This week, with Lanphier, they're a different type of team than Jacksonville.
"If the defense shows up and we play well, we've got a chance to make some good things happen, I think."
Shaner went as far to say that, with many of his players, he's "called them out."
"Pretty much, it's been, 'You have a choice. You can keep getting embarrassed every week when we give up 50 or 60 points, or, you can do something about it,'" said Shaner. "We've talked about it every night this week. The bottom line is, we've got guys who need to step up. There are a lot of teams who play a 4-4 (defensive alignment), and there's no reason we can't play that way and stop people, just like those teams do."
Containing Clemons is key: Unlike last weekend's matchup with the pass-first Jacksonville Crimsons, the Lions will try to run over the Railers.
Specifically, halfback Everett Clemons will be the focal point of Lanphier's offense. Thus far this season, Clemons has rushed for 329 yards on 67 attempts, with three touchdowns. Those numbers average out to about 22 carries and 110 yards per game for the Lions' workhorse.
"His speed," said Shaner when asked what stood out about Clemons as a running back. "He's very quick. In fact, he'll be the fastest running back we'll face all year. But really, he runs very hard too. He doesn't go down without a fight. On film, you can tell that every time he gets the ball, he's running to score a touchdown."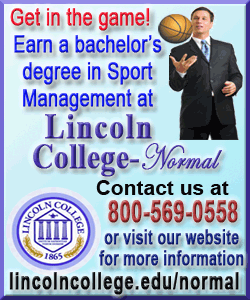 Keep it up, offense
If the Railer defense improves, all the Lincoln offense should have to do is continue what they've done for the last two weeks: score over 30 points.
The Railers followed up a 49-point effort in a win over Canton with a 31-point effort in last week's loss to Jacksonville.
Shaner's only complaint with his offense is that he'd like to see them start stronger.
"We've just got to keep sustaining drives. And we've done a real nice job of that," said Shaner. "I'd like to see us come out a little better on our first possession and take control of the game. We've got to protect the ball and keep sustaining those drives, especially early."
Kickoff is set for 7 p.m.
[By JUSTIN TIERNEY]
(Justin Tierney's Railer articles)