On Friday afternoon, Stancle was named the 2010 homecoming king.

On Friday night, Stancle caught seven passes for 107 yards and four touchdowns, in the process setting the Railer record for receptions in a season.

And to top it all off, Stancle and the Railers picked up their second victory of the season, defeating Springfield Southeast 40-20 on Friday night.

With the win, Lincoln improved to 2-3 on the season. And made Saturday night's homecoming dance significantly more enjoyable.

Just ask the king.

"Just this homecoming, I'm just really happy that we won, because the last one was horrible," said Stancle. "My friend (Justina Constant, a victim in the murders in Beason) died. We lost. This homecoming was a lot better in every way."
The Railers overcame more struggles with turnovers to take the victory. Lincoln fumbled three times in the first half and nearly had another turnover on a muffed punt.

The key was a second half in which the Railers scored on each of their possessions.

"I'm just happy for the kids," said Lincoln coach Jared Shaner. "During halftime, at that point, I was very frustrated. All I wrote on the board to begin was, 'Fumble, fumble, touchdown, fumble, touchdown.'

"I was very, very disappointed in the first half. I said, even if we win this way, it's not going to, for me, it's not any better than losing the game. So to come out in the second half and score on all four possessions, touchdowns -- that was the most gratifying part for me as a coach.

"For the players, it was just to come out and respond well, I was very happy for them. Now they have a memorable homecoming and hopefully the kickoff to a good weekend."

Literally, the Lincoln offense could not be stopped.

As a team, the Railers finished with 283 rushing yards on 35 carries and 154 yards through the air.

For the second week in a row, Stancle was the catalyst.

Lincoln's first touchdown of the second half gave them a two-score lead. Stancle scored on a 20-yard strike that also gave him a new school record for receptions, breaking Kyle Frick's record of 28 receptions. Stancle now has 30 catches this season, with four more games to play.

"We can keep saying the same things, but you can never say it enough times," said Shaner. "He's probably the neatest kid I've ever coached.

"He deserves everything that happens to him. He's a fantastic kid. Nobody works harder. There's a reason he has all these catches. It's because he was out on the practice field with any coach who would throw a ball to him.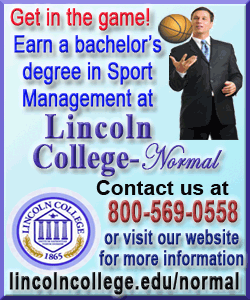 "And there's a reason he's the homecoming king. He's one of the most polite gentlemen in the whole school. He gets along with athletes, he gets along with non-athletes. He gets along with boys, girls, teachers, staff. A kid like that, he deserves everything he got today. Just... wow."

Of being named homecoming king, Stancle said, "It just shows appreciation from the people. Just like, they appreciate the way I act and that I should just be myself, pretty much.

"I thank everybody that voted for me. I went around the hallways and everything, I was thanking everybody -- even if they didn't (vote for me). I'm really happy and I'm glad about it."
Stancle had plenty of help on the field on this evening.

Running back Chris Rufus finished with 135 yards and a touchdown on eight attempts. Another Railer runner, Zach Schleder, finished with 55 yards on eight attempts with a touchdown.

The Railers will head to Chatham-Glenwood next week, looking to even their record at 3-3.

Lincoln enters the game with confidence and with a Stancle-led offense that has yet to be stopped all season.
Asked how he'll react if opponents start focusing on stopping him, Stancle said, "That's fine with me, because we'll just run it.

"And then when they start biting on the run, we'll pass it. Either way, if we don't turn it over, they're not going to win."
[By JUSTIN TIERNEY]