Men's soccer
The Lincoln College menís soccer team (7-1-2) defeated Florissant Valley 5-0 in Lincoln on Sunday afternoon.
Volleyball
PALOS HILLS -- The Lincoln College volleyball team lost twice in play at the Moraine Valley Community College triangular on Saturday.
LC (8-14) started out strong against Highland Community College (10-8), taking the first set 25-15, but it was all downhill from there. The Lady Lynx lost the next three to Highland 25-15, 25-21 and 25-22.
Lincoln then went on to lose to the undefeated host school, MVCC (18-0), by scores of 25-14, 25-13 and 25-14.
LC individual stats:
Alexis Nelson: 18 kills, 8 digs, 7 points

Kristen Wright: 17 set assists, 10 points

Emily Fox: 24 set assists, 9 points

Natalia Florczyk: 7 kills, 3 digs, 3 points

Chelsea Rhoades: 8 kills, 6 blocks, 1 dig

Jacqui Kane: 4 kills

Markeshia Williams: 9 digs
LC coach Mark Tippett commented:
"We did not play very well today. We struggled in our passing game, and defensively we had a hard time getting our block established. This caused lots of problems for our back-row defenders and led to too many scoring runs for the other team. We need to improve in these areas if we want to get things going in the right direction again."
Lincoln will host Greenville College in a 6 p.m. match on Tuesday.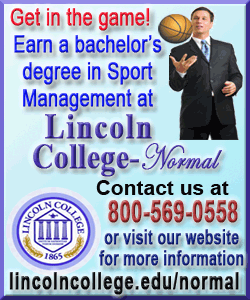 Women's golf
DECATUR -- The Lincoln College women's golf team finished their fall season by competing in the Millikin University Fall Classic over the weekend.
Ellen Turner finished with a two-day total of 180, Emily Cearlock had a two-day total of 214, and Alex Martens finished with a two-day total of 231.
Lincoln coaching comment: "We struggled as a team to put several good holes together, as we gave away too many strokes around the green."
___
Online: Lincoln College men's soccer
Online: Lincoln College volleyball
Online: Lincoln College women's golf
[Text from file received from Kirk Whiteman, Lincoln College]