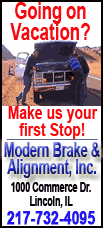 Beginning last Monday, the staff from the Lincoln office visited one farm per day at noontime, delivering a hearty meal and encouraging farmers to remember to take breaks during the hectic harvest season.

Those they visited were the Dale Lessen farm between Hartsburg and Lincoln on Monday, the Allan Heyen farm southeast of Greenview on Tuesday, the Norm Maxheimer farm between Mount Pulaski and Broadwell on Wednesday, and on Thursday they went to the John Adams farm between Atlanta and Armington.

On Friday, Farm Credit Services wrapped up their week with a visit to the Kevin Leesman farm.

The Leesman farm is located north of Lincoln on Nicholson Road, between Hartsburg and Atlanta. The farm consists of approximately 1,000 acres of crop production; plus, the family raises beef cattle and has additional acreage in pasture lands.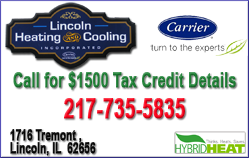 As of noon on Friday, Leesman said that there was still about 100 acres of corn in the field and that the soybeans are not quite ready. On the whole, harvest this year has gone much differently than last year.
Last season, rains kept farmers out of the fields at harvest time, and when they did get to the field, they dealt with wet ground and tough harvest conditions.
In spite of this year being drier than last, Leesman said that the year has not gone without its challenges, as they had to deal this spring with the damage that was caused to fields last fall.
Compaction occurs when the ground is wet enough that the weight of equipment literally squeezes all the air out of it, causing soil to become nearly rock-hard when it dries. Spring tillage then had to focus on breaking up hard, cloddy soils and reintroducing air into the ground.
To accomplish this, more time had to be invested in preparing seedbeds in the fields.
Once crops were planted, Leesman said that the heat of this summer prevented corn from producing at its optimum.
"Corn likes cool weather," Leesman said, "and with the higher temperatures this summer, we're seeing a reduction in yield this fall."
While Kevin and wife Joyce are the core of the farm today, Leesman said that he is the second of three generations involved in the operation. The Leesmans have three sons: Keenan, Kent and Kory. All three are grown and have careers off the farm. However, their dad said they still help out a lot, especially during harvest.
In addition to the sons, Leesman is also quite happy that he still has his father, Paul, with him on the farm.
He explained that his dad, at 84 years of age, has not missed a harvest in 60 years.
The FCS crew made quick work of setting up tables and chairs for everyone, and then laid out fried chicken dinners and meatloaf meals from the Lincoln IGA. Soon everyone was sitting around tables, laughing, telling stories and enjoying some really good food.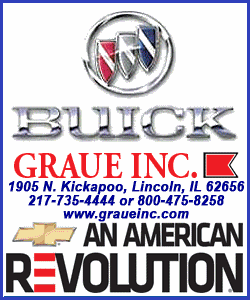 At the table, it was Joyce Leesman who spoke about the need for a midday break. She said it was something that her farm family has always observed.
"Lunch breaks are really essential. It gets them to stop, get out of the equipment and break their train of thought for a while," she said.
As everyone finished their meal, there was a special surprise in store for Paul. Kevin spoke about it, saying that when he and Joyce learned that they would be getting a visit from FCS this year, they wanted to take that opportunity to honor his father for his record of 60 years without ever missing a harvest.
Alicia Gullidge of FCS presented a cake to the senior Leesman on behalf of Farm Credit Services and the Leesman family.
Surrounded by all his family, Paul Leesman was very nearly speechless as he smiled broadly and merely said, "You have got to be kidding me!"
Agriculture is ranked as one of the most dangerous occupations and industries in North America.
In Illinois, from July 1, 2008, to June 30, 2009, there were 33 farm-related deaths. From July 1, 2009, to June 30, 2010, that number did drop to 21 fatalities.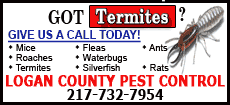 Tractor rollovers and run-overs remained the leading cause of death for the 10th straight year. Tractor-vehicle collisions ranked second; farm-related deaths with grain bin incidents ranked third.
This year more than 100 Illinois farm families were invited to take a break with Farm Credit Services in observance of National Farm Safety Week.
In a recent publication, Dave Owens, the president and CEO of Farm Credit Services of Illinois, wrote: "Farm Credit salutes the hardworking farm families in Illinois. We hope our meals give farmers a compelling reason to climb off the combine or out of their grain truck to take a quick and refreshing break during the long harvest workdays. We want to remind farmers that it pays in the long run to slow down enough to take breaks and drink plenty of water to help them stay alert while operating farm machinery."
[By NILA SMITH]