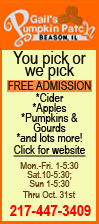 Spokesman Greg Aiello told The Associated Press the league is "in the process of reviewing all the facts" and Bears spokesman Scott Hagel said the team is doing the same thing.
"Right now, we're monitoring it," Hagel said.
Milwaukee's WITI-TV aired video in which Collins is seen yelling at a fan as he left the field. Collins then appears to throw his mouthpiece into the stands. According to the station's report, Collins said the fan spit on him and used a racial slur.
WITI said Collins apologized for "losing his cool."
Packers coach Mike McCarthy said he hadn't seen the video but had been briefed on the situation by the Packers' security department.
"I understand Nick's story, as far as what happened and what our security people that were there (said)," McCarthy told reporters in Green Bay on Tuesday. "And I support Nick 100 percent."
Still, McCarthy said players would be wise to avoid such confrontations.
"You don't want to get into interaction, particularly with opposing fans," McCarthy said. "It is an emotional time, particularly after a game. I think it's something we can all learn from."
Collins, a veteran safety who has been selected to two straight Pro Bowls, may have been frustrated after being caught in the middle of two penalties that helped turn the game in the Bears' favor.