Mary Jones Aper

Send a link to a friend
[April 16, 2011] LINCOLN -- Mary C. Jones Aper, 92, of Lincoln, died Friday, April 15, 2011, at St. Clara's Manor.
Her graveside service will be at 2 p.m. Monday at Holy Cross Cemetery, with the Rev. John Pham officiating.
Fricke-Calvert-Schrader Funeral Home in Lincoln is in charge of arrangements.
Mrs. Aper worked for the Lincoln Courier for 25 years.
She was born Nov. 13, 1918, in Lincoln. Her parents were Barney and Lela Sullivan Maloy. She married Melvin Jones in 1937, and he preceded her in death.
She is survived by one son, Ronald L. (and Kay) Jones of Lincoln; five grandchildren, Renee Jones of Lincoln, Rod (and Mary) Jones of Williamsville, Randy Jones of Destin, Fla., Robbie (and Gretchen) Jones of Lincoln and Richie (and Jani) Jones of Lincoln; 10 great-grandchildren; and two sisters, Betty Purdue and Marjorie Fitzsimmons, both of Lincoln.
She was also preceded in death by one brother, William "Bud" Maloy, and one sister, Henrietta Gillard.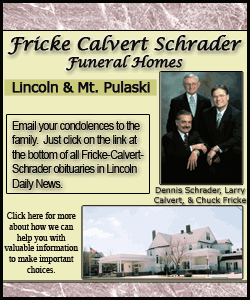 She was a member of Holy Family Church, Eagles Lodge and Knights of Columbus Auxiliary.
Memorials may be made to St. Clara's Manor.