---

The Lincoln-Logan Arts & Crafts Guild will meet on Monday, April 25, at 7 p.m., at Sue Bidwell's home, 125 Sixth St. Everyone is to bring arts and crafts that need to be finished. There will be an exchange of projects for everyone attending this giveaway activity.
---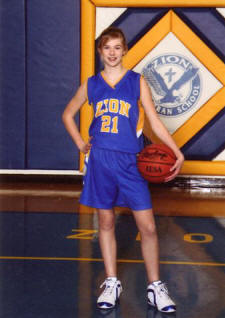 Elizabeth Ford, a seventh-grader at Zion Lutheran School in Lincoln, has been selected as the Zion Lutheran March Student of the Month.
Elizabeth's ZLS activities include basketball, track, cheerleading, choir, student council, Math Bowl, Scholastic Bowl and State History Fair.
Elizabeth is a member of the Mount Pulaski Christian Church. Her church and community activities include youth group, CIY, church camp, Big Wednesday and bowling.
Elizabeth most enjoys playing basketball.
Her parents are Kelby and Angela Ford of Elkhart.
---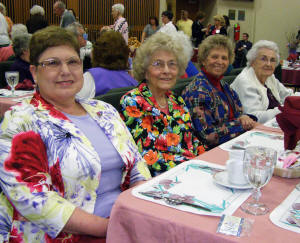 How do you say "thank you" to the dedicated volunteers of The Christian Village Nursing Home?
Approximately 120 volunteers were treated to a special meal, enjoying beautiful acoustic music as they ate and enjoyed each other's company. Special gifts of appreciation were given, words of encouragement and affirmation were spoken, and a good time was had by all. Over 150 volunteers contribute approximately 7,000 hours each year in service to the residents of the nursing home.
Doug Rutter, administrator, said that "God's love shows up" when volunteers walk through the door of the campus to serve.
"Their impact on our community is truly too great to measure," according to Ryan Jay Edgecombe, M.Div., chaplain and director of volunteer services.
---

From left: Ed Jodlowski, Illini Central principal; Steven Ingersoll; and Jane Bruce, 1st State Bank of Mason City representative
The 1st State Bank of Mason City and Illini Central High School have presented Steven Ingersoll with the March Student of the Month Award. For demonstrating outstanding character, Steven receives a $50 savings bond from 1st State Bank and a reference work appropriate to his course of study from the Illini Central High School faculty.
Steven is the son of Rodney Ingersoll and Shirley Halsema.
His classes this year are Creative Writing, Advanced Woodworking, Physical Education, Arts and Crafts, Foods, Leadership, and International Relations.
In addition, he keeps busy with a number of extracurricular activities. He was a member of the Illini Central track and cross country teams and was a part of the co-op wrestling team with Havana. He was selected the senior wrestling team captain, advanced to sectionals and was named to the all-conference second team. He received wrestling team awards for most points (312), take-downs (84) and wins (28). He also received the Leadership Award and was named the team's Most Outstanding Wrestler. Steven was a member of the cross country team that placed first at regionals, and he qualified as an individual to run at the state cross country meet.
In addition to sports activities, Steven is a member of the high school Spanish Club and Drama Club. He played a leading role as Prince Jared in this year's school play, "Robin Hood."
Steven plans to attend Illinois Central College for an associate degree and to run cross country, before transferring to Illinois State University to major in kinesiology and complete a degree in physical therapy.
---