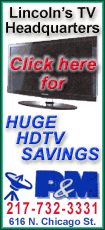 Replacing Hugh Whalen in the office located at 407 Keokuk, Daniels said she was attracted to Lincoln because it was a smaller, friendlier community where everyone knows everyone.

Although she spent her childhood in Decatur, she, husband Jon and their three children, Mikali, Corban and Milaina, now live in Harristown, just west of Decatur. Daniels said it is a much smaller community with a much better atmosphere for raising a family. It is that same atmosphere that she sees here in Lincoln.

As a financial adviser, Daniels said getting to know a prospective client is a crucial part of offering the right services at the right time, and ultimately helping clients achieve their financial goals.

While the name Edward Jones is well-recognized, Daniels said perhaps not everyone knows the scope of investment products and services that are available through the agency.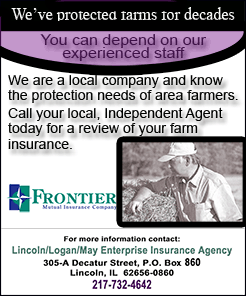 Edward Jones offers mortgage and small-business loans, annuities and life insurance, college education savings, retirement plans, and estate planning, just to name a few.
When Daniels first meets with an individual or family, she said she wants to start by looking at what they have going on in their lives.
A starting point can be creating a budget sheet to determine what the clients have available to invest.
The next step may then be: What is the goal? Are the clients planning for retirement, or are they interested in saving for their children's college educations? What specifically do they want to do with their returns of investment?
Daniels said that when she gets into talking about goals, she wants to make sure that the goals are clear and reasonable.
During those initial visits, Daniels also may do what the company calls a risk tolerance questionnaire.
This is a series of questions Daniels asks and then uses the answers to help determine how a client may respond to fluctuating markets.
"We ask the question, if the market did this and your money did this, how you would feel? That helps me look at the right investments for them because every person assesses risk differently. What we do for them depends a lot on how they would react to risk," Daniels said.
Daniels said that with the wide range of products offered by Edward Jones, she can design a package that can include lower risk products such as annuities. If the clients feel they can weather the ups and downs of the stock markets, portfolios can be put together that include stock investments.
Edward Jones also offers money market certificates, which can draw smaller interest returns but are readily available to the client without penalty.
Money markets are a safer investment, but they may not always be as productive as a bank savings account.
Daniels said she wants her clients to keep their money where it will do the most good.
"I want to be straightforward and honest with people," she said. "If they have their money in a bank savings account, and I see they can make more money there than with money market, I'm going to tell them."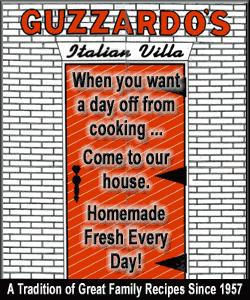 Daniels said another service the company offers that the public may not be aware of is the electronic transfer of funds into client bank accounts.
It's an added service that helps the client who may not have the time or opportunity to come to the office and collect a check and take it to their bank.
Once clients make a decision on how they want to invest, Daniels said another important part of her job is to stay in touch with them.
Situations change over time, and goals set initially may change as well. Daniels said she wants to meet with her clients periodically, go over what they have versus what has changed in their lives, and determine if they are still using the right services from Edward Jones.
Another service the company offers is estate planning. Daniels said she wants to always be able to assure her clients that what they have at Edward Jones is a package that will answer their needs at death.
She said there is also an important component that is called a transfer on death. This will immediately transfer a client's investment package to their heir without going through probate. What this does is gives the heir access to the account, to close it or revamp it for their own needs however they see fit, without going through the long probate waiting period.
Daniels said Edward Jones is constantly changing, improving their products and services, and offering more and more for the client.
Being with Edward Jones and helping her clients achieve their goals is what motivates Daniels each day.
"I feel incredibly blessed to be in the position I am," she said. "I enjoy the interaction with people, and I feel like we only get one chance to make a difference in someone's life. I feel like this is a great opportunity for me to do that."
[By NILA SMITH]