Mount Pulaski 175th activities, Nikki Taylor, Toys for Tots golf scramble, LCHS prom grand march and the Pleasant Valley Cemetery Association all in Close Up
By Mike Fak

Send a link to a friend
[April 26, 2011] The Mount Pulaski 175th anniversary reception at the Abraham Lincoln Presidential Museum in Springfield will be on June 30 from 6:30 to 10 p.m. Tickets are $35 and include all shows, displays, food and drink. Bus transportation will be available. Tickets are being sold at Salt Creek Attic, 792-5117; DPCM Insurance; Farmers Bank; Illinois National Bank; and Vintage One. Tickets will not be available at the door.
The Mount Pulaski 175th anniversary golf outing at Lincoln Elks Country Club will be on July 1, beginning at 8:30 a.m. The deadline to enter is June 15. Contact Jeff Clements, 217-792-5251 or dpcmins@frontiernet.net, or Deron Powell, 217-792-3371 or deron.powell.lj2i@statefarm.com.

The Mount Pulaski 175th anniversary alumni reunion will be July 1-3. Reservations are being accepted, and the deadline is June 1. The $25 ticket includes food and entertainment. To reserve your tickets, contact Mike Richner, 217-792-5709 or Richnermj@comcast.net.

The Mount Pulaski 175th anniversary "Head Home to the Hill" parade will be on July 2 at 9:30 a.m. The deadline for reservations is June 1. Forms are at the library, Salt Creek Attic and Mount Pulaski banks. Prizes will be awarded. For information, call Carolyn Beatty, 792-3848.

For further information, check www.mtpulaski175th.net.
---
The March Senior of the Month at Lincoln Community High School is Nikki Taylor, daughter of Chuck and Susie Taylor of Lincoln.
Nikki's school activities have included golf, cheerleading, soccer, Spanish Club, Fellowship of Christian Athletes, Pep Club and National Honor Society, among others.
Nikki is active in the community as well, including volunteer work with the YMCA soccer program, Logan County Food Pantry, West Lincoln-Broadwell Fun Fest and Carroll Catholic School, among other volunteer efforts.
Nikki is planning on chemistry as a college major, and she plans to attend Illinois Wesleyan University.
Logan County Bank congratulates Nikki on her selection as LCHS Senior of the Month for March.
Logan County Bank is proud to sponsor the LCHS Senior of the Month/Year award and scholarship program. Each monthly winner receives a $50 U.S. savings bond from the bank and is then eligible for a $1,500 scholarship awarded by the bank, to be used at the college of their choice.
---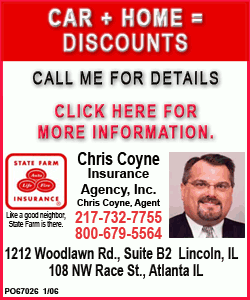 The initial Sgt. Robert E. Graue Toys for Tots Charity Golf Scramble will be at Lincoln Elks Lodge 914 on June 20. Registration will be at 11 a.m. and the shotgun start at 1 p.m.
Entry fee is $100 per golfer. Early bird discount will be $300 per foursome, if received no later than June 1. This includes entry into all events, 18 holes of golf, riding cart, lunch, dinner and a chance to win various prizes.
Awards will include recognition for longest drive and closest to the pin.
To register, call 217-306-5036
Golf attire is required: collared shirts, slacks or shorts as appropriate, and no steel spikes are allowed on the course.
All participants must be at least 7 years of age.
Proceeds collected from this event will support the 2011 Toys for Tots campaign in Logan, Mason and DeWitt counties.
---
The 22nd annual LCHS prom grand march will be this Saturday, April 30, on the square, starting at 6 p.m.
Students participating should enter on the McLean Street side of the courthouse. The prom goers this year will exit the courthouse on the Pulaski Street side of the building. Steve Sauer will emcee the event, with Ben Vogel providing the sound. MKS Jewelers will provide the tiara, Ace Hardware the plants, and Glenn Brunk Stationers will supply index cards. CITV 5 will tape the event.
---
The Pleasant Valley Cemetery Association will have its annual board meeting at 7 p.m. May 2 at the Knapp-Chesnut-Becker Library in Middletown. All lot owners are welcome to attend.
---