Park district notes
From Roy Logan, program coordinator

Send a link to a friend
[April 13, 2011] The Lincoln Park District is offering a Beginners Cake Decorating class Saturday, April 16, from 1:30 to 3:30. This is designed for adults. Cindy Dunovsky will be the instructor. She has been decorating professionally for over 12 years and is the mother of two children. She will teach you the basics of decorating your cakes and making them more special. Participants will learn to use a pastry bag and apply different techniques in piping frosting trim and making simple flowers. Techniques for coloring icing and making theme-shaped (i.e., football, Easter egg, etc.) and decorated cakes will be offered as well.
Participants should bring a Wilton flower-tip pastry bag kit, the large tip set, an 8-inch angled spatula, and two 8-inch cakes, already baked. The cakes may be of any kind, and they may be square or round. Cakes should not be frosted and should be at room temperature. Frosting will be provided. To reserve a spot in the class, call the park district at 732-8770. Fees apply.

The park district is still accepting baseball and softball registrations for boys and girls. The boys' evaluations will be Saturday, April 16, on the south triplex ball diamonds. Girls will have no evaluations. Please have your child or children signed up before April 16. No late fees apply.

Registration for adult softball is still open too.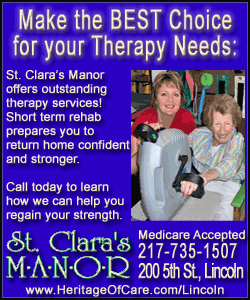 The park district will host an Umpire's Clinic on Tuesday, May 17, at 6:30 p.m. Anyone high school age and over who is interested in umpiring boys baseball or girls softball for the park district should attend this free clinic. Jerry Pagel, head umpire and coordinator of officials, will lead the clinic in the Craft Room. Rule changes and updates will be covered. Pagel will accept both patched and un-patched officials. Please RSVP to him at 735-1388. Attendance is strongly encouraged for those wanting to work park district games.
[Text from file received from Roy Logan, Lincoln Park District]