Senior and freshman students from Lincoln Community High School attended a Workforce Readiness Expo on Wednesday to learn how to explore career opportunities, prepare for interviews and maintain positions once obtained. The event was a partnership between the school, Lincoln/Logan County Chamber of Commerce, and local businesses and public service departments, according to Bret Hitchings, LCHS vice principal, and chamber director Andi Hake.

Reporting and pictures by Marla Blair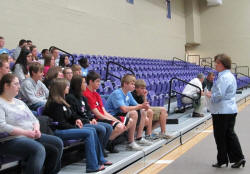 Donna Boyd, president of the chamber of commerce, welcomed Lincoln Community High School students to the business expo on Wednesday at Lincoln Center on the Lincoln College campus. According to Bret Hitchings, LCHS vice principal, 440 freshmen and seniors participated in the event.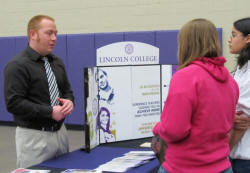 Josh Anderson, admissions counselor at Lincoln College, answered questions for interested students who stopped at his display table. Anderson said several students already registered to attend Lincoln College next school year came by to tell him of their choice.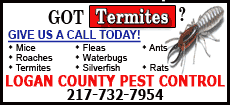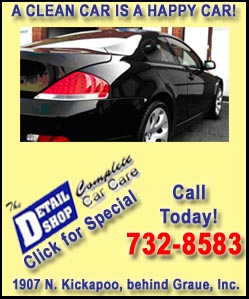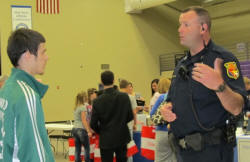 Law enforcement is a fascinating career choice for a lot of students. Officer Jake Kitner offered information about the Lincoln Police Department to interested male and female students at the business expo.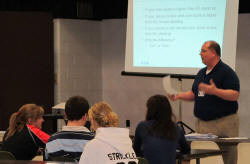 LCHS freshmen attending a breakout session at the Lincoln Park District were given suggestions for exploring their choices in "Navigating Your Path," presented by Scot May and Ralph Dinges from Eaton Corp. The company was given high marks by organizers for its enthusiasm and willingness to assist with the business expo for LCHS students.