Cars for Charity, Hartsburg-Emden FFA news, DCP and ACRE deadline, and LCHS Princess Party make Close Up

By Mike Fak

Send a link to a friend
[April 29, 2011] Lincoln Community High School is having a Cars for Charity event again this year. This is the second year for the event. It is sponsored by LCHS and the LTEC programs. They will wash cars from 8:30 a.m. to around 3 p.m., and the car show will be from 3 to around 8 p.m. All car washes are $5 and all cars entered into the car show have a $5 entry fee, with 100 percent of the proceeds going to St. Jude Children's Research Hospital. During the car show there will be food, a DJ, face painting for the kids, raffle drawings and 50-50 drawings. Last year there were 40 cars at the show and 50 cars were washed. This is all happening on Friday, April 29, in the high school parking lot.
---

The Hartsburg-Emden FFA livestock judging team took second place at the Section 14 contest. Cody Conrady was third-high individual and Noah Cross was eighth-high overall. The rest of the team members were Kelsi Ubbenga, Josiah Klokkenga, Dirk Conrady, Cole Baker and Robby Meeker. The team also placed fifth at the Lincoln Land Community College invitational livestock judging contest.
The Hartsburg-Emden FFA plant sales will begin this Saturday, April 30, from 8 a.m. to noon. The greenhouse will also be open the first three Saturdays in May. Plants available include vegetables and annual flowering plants. Also available are hanging baskets and potted flower arrangements. For more information, contact Betsy Pech at 642-5244.
---

FSA reminds farmers of an approaching deadline. There is only one month remaining to enroll in the 2011 Direct and Counter-Cyclical Payment program, known as DCP, and the Average Crop Revenue Election program, known as ACRE. Spring planting has been delayed, so get in and sign up now before planting is in full swing. Signup will continue through June 1.
All DCP and ACRE participants must sign their contracts annually. There are no late provisions for accepting late-filed applications, so if all signatures are not obtained by June 1, the farm will be ineligible for all 2011 DCP and ACRE payments.
Producers can visit any USDA Service Center to complete their 2011 DCP-ACRE contract or make use of the FSA website.
Please contact the Lincoln Service Center if you have any questions or concerns.
---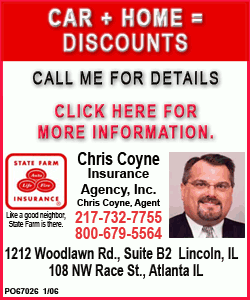 Princesses, get your dresses ready. The sophomore class at Lincoln Community High School is hosting a Princess Party on Saturday, May 7, from 9:30 to 11 a.m. in the LCHS cafeteria for all princesses and their attendants.
For $10 admission, each princess will move from station to station and enjoy the royal treatment of face painting, creating your own princess coloring book, hearing an enchanted story, dancing at the Princess Prom, creating a paper flower and Mother's Day card, decorating your own cupcake with lots of delicious goodies, and creating a picture frame to hold memories of the day.
All princesses must have an adult with them at all times. Adult admission is only $5 and includes a cupcake treat.
This fundraiser will aid the Class of 2013 in preparing for prom next year, and it is hoped to be an annual event.
For tickets or more information, please contact Jennifer Keith at jkeith@lchs.k12.il.us or call the high school at 732-4131.
---