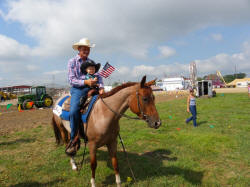 For the first time in several years, the Open Horse Show didn't have to contend with mud.
In fact it was a bit dusty as men and women put their horses through the paces of trotting, gait, halter and appearance.
The young lady at left carried the flag during opening ceremonies, and according to her dad, she just loves to get on a horse and ride.
Pictures by Mike Fak