Faith Lutheran blood drive, Mount Pulaski Grade School registration, Firemen's Benefit Golf Outing by Frontier Mutual, Sidewalk Chalk Art Exposition and Habitat for Humanity orientation make Close Up
By Mike Fak

Send a link to a friend

[August 02, 2011] To help ensure an adequate blood supply for our region, Faith Lutheran Church, 2320 N. Kickapoo in Lincoln, is hosting a blood drive on Wednesday, Aug. 10, from noon to 6 p.m. For your convenience, call Jessica to sign up toll-free at 1-866-GIVE-BLD (1-866-448-3253), ext. 118, or schedule an appointment online through www.cicbc.org. Walk-ins are also welcome and truly appreciated.
---

Mount Pulaski Grade School registration will be Aug. 8-12, 7:30 a.m.-3:30 p.m. Fees are $25 for the early childhood program, $45 for kindergarten to fifth grade and $55 for sixth to eighth grade.
---

The 21st annual Firemen's Benefit Golf Outing sponsored by Frontier Mutual Insurance Co. of Lincoln was on July 25 at the Elks Golf Course in Pontiac. This year's event included 108 golfers, representing 17 different fire departments from central Illinois. They raised $7,530 toward each of their own fire departments to help purchase necessary equipment and supplies. The total amount raised over the past 21 years has surpassed $129,429.
Lincoln Logan/May Enterprises, represented by agent Bob Jeckel, sponsored the Lincoln Fire Department and Lincoln Rural Fire Protection District. Team players were Kendall Fitzpatrick, Phil Uphoff, Ken Ebelherr and Bob Dunovsky of the city fire department, and Chad Letterle, Andy and Ryan Anderson, and Dave Hurley of the rural department.
Other participating fire departments were from Ashkum, Allen Township, Chatsworth, Chenoa, Dana, Fairbury, Flanagan-Graymont, Gilman, Milford, Piper City, Pontiac, Plainfield, Onarga, Reading and Towanda.
The benefit is an annual event and is scheduled next year on July 23, 2012.
---

Lincoln's first Sidewalk Chalk Art Exposition will be on Thursday, Aug. 25, in downtown Lincoln. Artists of all ages and abilities are invited to join the city of Lincoln and the Lincoln Park District as they combine their efforts to make something beautiful and interesting. Registration forms will be available at the park district until Sunday, Aug. 21. You may create your design on Aug. 25 between noon and 8 p.m. Your talents will be displayed just before the community greets the crowds for the Lincoln Art & Balloon Festival weekend.
Squares of sidewalk will be numbered and reserved. Each space is $10, and you will be provided with a container of chalk. Enter as an individual or as a team of two or more. The first 25 individuals who preregister will receive gift coupons from Culver's, Wendy's, McDonald's, Curry's Wieners and the chamber of commerce office.
---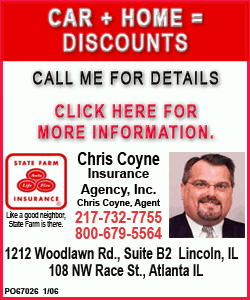 Habitat for Humanity of Logan County will have an orientation meeting Sunday, Aug. 14, at 2 p.m. in the Community Room of the Logan County Housing Authority Highrise, 1028 N. College Street in Lincoln.
Guidelines for homeownership and qualifications for acceptance into the program will be explained. People who have lived in Logan County for one year have already met one of the qualifications for homeownership with Habitat. A second requirement is to put in 250 hours of sweat equity. Find out the other requirements at the meeting. Applications will be available for those who wish to apply for the program.
Habitat may be contacted at 732-6412. You may also email Habitat at habitatlc@hfhlogancounty.com.
---