To
day's highlight in history:
On Aug. 4, 1735, a jury found John Peter Zenger of the New York Weekly Journal not guilty of committing seditious libel against the colonial governor of New York, William Cosby.
On this date:
In 1790, the Coast Guard had its beginnings as the Revenue Cutter Service.
In 1830, plans for the city of Chicago were laid out.
In 1892, Andrew and Abby Borden were axed to death in their home in Fall River, Mass. Lizzie Borden, Andrew's daughter from a previous marriage, was accused of the killings, but acquitted at trial.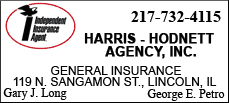 In 1916, the United States reached agreement with Denmark to purchase the Danish Virgin Islands for $25 million.
In 1936, Jesse Owens of the U.S. won the second of his four gold medals at the Berlin Olympics as he prevailed in the long jump over German Luz Long, who was the first to congratulate him.
In 1944, 15-year-old diarist Anne Frank was arrested with her sister, parents and four others by the Gestapo after hiding for two years inside a building in Amsterdam. (Anne died the following year at Bergen-Belsen.)
In 1964, the bodies of missing civil rights workers Michael Schwerner, Andrew Goodman and James Chaney were found buried in an earthen dam in Mississippi.
In 1977, President Jimmy Carter signed a measure establishing the Department of Energy.
In 1987, the Federal Communications Commission voted to abolish the Fairness Doctrine, which required radio and television stations to present balanced coverage of controversial issues.
In 1991, the Greek luxury liner Oceanos sank in heavy seas off South Africa's southeast coast; all 402 passengers and 179 crew members survived.
Ten years ago: Thousands of admirers turned out in London to celebrate the 101st birthday of Britain's Queen Mother Elizabeth in what would be the last such celebration. (The Queen Mother died in March 2002.) North Korean leader Kim Jong Il and Russian President Vladimir Putin held talks in Moscow.