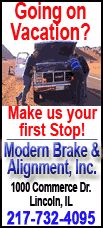 This display had no bells and whistles, no flashing lights or moving parts. Instead, it had faces of people who can no longer enjoy the fun of a midway and whose voices have been silenced. The purpose of the display is to create a memorial of their lives and honor their sacrifice.

The Illinois Fallen Heroes Wall displays 250 pictures of Illinois soldiers who have died while serving in Operation Enduring Freedom and Operation Iraqi Freedom -- the Afghan and Iraq wars. Along with each soldier's picture is his or her rank, branch of service, date of death, and hometown.

The original idea came from a Gold Star father in Ohio. (In military terms, if families have a member in the military, they are considered Blue Star. When a military person dies, the survivors are Gold Star.) The idea spread through the Patriot Guard, the nationwide organization that attends veterans' funerals, to show respect for and honor the men and women who have served their country. Members of the group attend only if invited by the family of the deceased. They will also participate in parades, memorial rides, soldiers' homecomings and attend fundraising events that benefit veterans. Most attendance is by invitation.
The Illinois Patriot Guard Fallen Heroes Memorial Wall had its initial showing in Woodstock in February. The Logan County Fair is the 30th display location so far this year, and there are seven additional events scheduled in upcoming weeks.
The reason the wall is at the Logan County Fair is due to a conversation between John Coers of New Holland and Daniel Pannier of Washburn, who met at the DeWitt County Fair in Farmer City. Dan's brother, Phillip, was killed in action in January 2008 with his best friend and their sergeant. The tailgate of Dan's truck is covered with a mural that includes a picture of his brother and the American flag. Coers asked about the mural, found out more about the memorial wall and began to make arrangements for it to be displayed at the local fair.
The person responsible for transporting and hosting the display in Lincoln was Don Pannier of Washburn. He and his wife, Robyn, are Dan and Phillip's parents, and Don is a member of the Illinois Patriot Guard. Due to his involvement in building and exhibiting the Illinois Fallen Heroes Wall, he received the General Motors 2011 "Our Town, Our Heroes" award.
"We want to educate the public and allow families to see their son, daughter, husband or father remembered and their life acknowledged," Don Pannier said. "I'm not just here for my son, but for all the families across Illinois who have lost someone. We estimate the wall will travel about 30,000 miles this year, back and forth, up and down the state of Illinois -- wherever they ask us to visit.
"People need to know the individuals who gave them their freedom," Pannier continued. "They need to see that the numbers in the news are real people, with birth dates as well as death dates."
On Tuesday at the Logan County Fair, Pannier was accompanied by Louis and Margaret Lindsey, members of the Patriot Guard Riders, from Rantoul. Members of the Illinois Patriot Guard who are not transporting the display volunteer to assist in setting up, taking down and hosting the display. A group of central Illinois members arrived late Wednesday afternoon to help Pannier dismantle and load the display for his return trip home. His next display date is Sunday, at Cabela's in Hoffman Estates.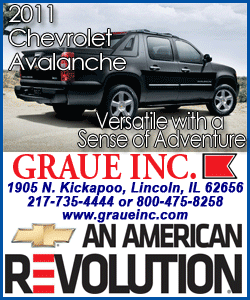 "Our granddaughter was stationed at the main airport in Iraq for a year," Margaret Lindsey said, "and it was a scary and long year. But she's home now, so we can count our blessings."
The first Illinois wall was an outdoor memorial at the Illinois Patriot Guard's 2010 Gathering of the Guard in Knoxville. It was the centerpiece of what they referred to as an "Honor Guard-en," which included flags, flowers, the soldiers' field cross, service flags, and the Honor and Remember flag.
The group decided the fallen soldiers' memorial should be shared with as many people as possible, so it was re-created to be transported. Only a few families are appointed to travel with the wall, accompanying flags and other items. It is stored and transported in a specially designed trailer.
Visitors to the wall can sign "The Pledge to Never Forget," which states, in reference to fallen heroes: "I pledge to honor their service, remember their sacrifice, celebrate their lives." The pledge is given to the signer to keep as a reminder. Donations are accepted to help defray costs of transporting the wall.
Upcoming events to support veterans:
Saturday, Sept. 17
Third annual Spc. Phillip J. Pannier Fallen Hero's Memorial Ride (motorcycles, trucks, cars), to begin at the Flame Restaurant, Metamora. Signup starts at 8 a.m., and the ride leaves at 10 a.m. The cost of $15 per driver and $5 for each passenger includes supper and entertainment. Stops will be made at gravesites in Peoria, Tazewell and Woodford counties.

Street dance in Benson from 5 p.m. to 1 a.m. Music will be provided by a DJ, Craig Gerdes, from Benson, and the 4 1/2 Men Band, from Lincoln. There will also be a live auction.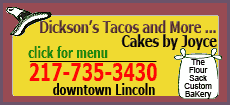 All proceeds from these events will be donated to the General Wayne Downing Home for Veterans in Peoria and to the Goodwill Veterans Reintegration Program, through the Spc. Phillip J. Pannier Fallen Hero's Memorial Ride Fund.
If anyone wishes to schedule the Illinois Patriot Guard Fallen Heroes Memorial Wall, or for more information, go to www.ilpgmemorialwall.com.
[By MARLA BLAIR]