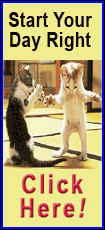 Junior division first-place winners were cousins Andrew Dyer and Daniel Siebert for their rapping performance. Also in that division were Madyson Wood, singing; Jayden Lawrence and Lane Brickey, dance; Kacey Bennett, singing; Baylee Baker, singing; and Julia Collins, 2011 Little Miss Logan County Fair, piano. The judges usually give only five awards, but because there were six entries, and they all did so well, all the contestants were acknowledged for their efforts.

Senior division first-place winners were a threesome who performed a tap routine choreographed by Audra Turley. The girls were Kia Glenn, Adrienne Alley and Morgan Conrady. The other contestants in the senior division were Molly Edward, singing; Matthew Squaire, with a moonwalk routine to Michael Jackson's "Thriller"; soloist Bethany, accompanied on guitar by partner Thor; and a three-man band with Christian Sandel, Blake Burris and Ryan Brown, performing an original song written by the band.

Winners of the Logan County contest will advance to the state competition at the Illinois State Fairgrounds on Jan. 21, 2012.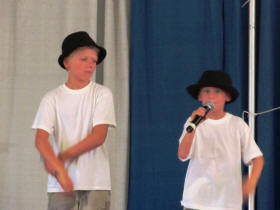 Andrew Dyer and Daniel Siebert won the junior division of the talent contest at the fair.
[By MARLA BLAIR]