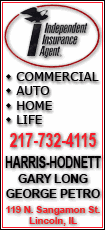 Twenty-one years ago, a small group of Lincoln residents staged a run to Peoria to show support for a friend whose child was a patient in Peoria, at the Midwest affiliate of St. Jude Children's Research Hospital, Memphis. Every year since, there has been a Lincoln-to-Peoria run to raise funds for St. Jude.

This year there were 16 runners and 11 support volunteers on the Lincoln team. It is a 55-mile trip to the Peoria Civic Center, where 27 teams from Chicago and central Illinois towns came together to deliver their donation checks to St. Jude representatives.

Runners "leapfrog" the distance, usually running a few miles, taking a rest by riding on the bus and then returning to the road when ready. Runners can cover whatever distance they want but are not expected to run the entire 55 miles. But there are always runners on the road between the point of departure and the arrival point where a team regroups before members run together into the Civic Center.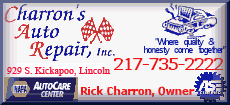 After the Lincoln runners left the police station, they traveled north on Logan, turned onto Keokuk until they reached Lincoln College, then turned right on Ottawa and continued north as it became Nicholson Road. A police escort took them through town; saw them safely across Old Route 66 and into the country.
The runners stayed on secondary roads and did not run down the highway. To ensure safety, runners always wear a mesh vest with a reflective stripe around it. Even in early morning, the reflective material was catching light from various sources and signaling runners' movements.
The team passed through Hartsburg and received cheers there from a few early risers. Then the first official stop was in Emden.
"We stop at the firehouse in Emden to let everyone rest, and they always have water and fruit ready for us," said team leader Jennifer Bergman. "Mr. Aper is a wonderful man. He is always so nice to us. The fire department always gives a donation that the members have collected around town. This year the donation was $426."
The running team continued north to Delavan and west of Tremont before heading through East Peoria and crossing the Bob Michel Bridge over the Illinois River. Tremont is more than halfway to the final stretch, and runners are always ready to take another break at that point.
"At the place where we pass outside of Tremont, there is a couple, Tom and Dawn Brewer, that treats us so well," Bergman explained, "and the runners look forward to that stop also, every year.
"They have cold clothes and a sprinkler to cool us off; they let us use their bathroom. They just open their home up to us, and we feel much better by the time we get back on the road. And, even after doing all that for us, they make a donation to the cause."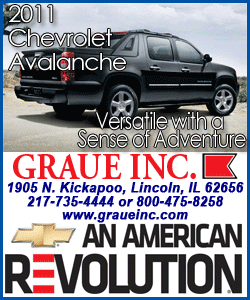 This year, the paramedics who traveled with the team were Chris Buse and Scott Kuhlman, whose daughter, Gabby, was a first-year runner. At 16, she was required to have a parent present, so her father went along with a dual purpose. Also this year, chiropractor Karen Dzekunskas, owner of Family Chiropractic Center, volunteered her services to attend to stiff muscles and other concerns caused by the physical stress of running.
"The runners loved Karen, and she already volunteered to go with us next year," Bergman said in a post-event interview. "It really made a difference to have someone along who could massage stiff muscles and address running-specific issues immediately."
Other volunteers included two drivers with vehicles that stayed a few miles ahead of the runners, announcing the event to the communities and encouraging people to cheer for the runners. They also collect donations from townspeople in the locations where they pass through a town. This year the drivers collected over $2,000 along the way. Other drivers provided chase vehicles to follow the runners and pick up anyone who might have fallen behind or become sick.
In addition to the charter bus that carried runners, Lincoln resident John Barrick drove his RV along the route, providing space for the chiropractor's work area and as a first-aid station for the paramedics. John's wife, Heather, was a fourth-year runner on Saturday.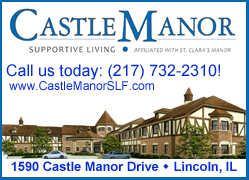 Registered runners are expected to raise $750 in donations, which is the way funds are collected from the community and beyond. The Lincoln team raised $20,000 this year, a significant increase over the $12,250 donation total in 2010.
"This is an event that has not received much attention, and most people outside of the runners and volunteers do not understand what it's about," Bergman said. "The community needs to acknowledge what the team is willing to do for the kids of St. Jude."
[By MARLA BLAIR]