Park district notes
From Roy Logan, program coordinator

Send a link to a friend
[August 02, 2011] Lincoln's first Sidewalk Chalk Art Exposition will be on Thursday, Aug. 25, in downtown Lincoln. Artists of all ages and abilities are invited to join the city of Lincoln and the Lincoln Park District as they combine their efforts to make something beautiful and interesting. Registration forms will be available at the park district until Sunday, Aug. 21. You may create your design on Aug. 25 between noon and 8 p.m. Your talents will be displayed just before the community greets the crowds for the Lincoln Art & Balloon Festival weekend.
Squares of sidewalk will be numbered and reserved. Each space is $10 and you will be provided with a container of chalk. Enter as an individual or as a team of two or more. The first 25 individuals who preregister will receive gift coupons from Culver's, Wendy's, McDonald's, Curry's Wieners and the chamber of commerce office.

The park district will have a promotion for the Logan County Fair and pool Aug. 2-7. Bring your fair ticket or wristband and get into the pool for only $1. Look for the park district booth at the fairgrounds, too. Representatives will be there every evening to meet and greet you. Stop by and sign up for door prizes and free giveaways. A grand prize will be drawn at the end of the fair.

Do you have a craft or hobby that you think someone may enjoy? Are you willing to share your talents with others in the community? If so, contact Roy at the park district and let's see what it takes to make this happen. If you have a program idea or are wondering just how to do something, give him a call. We are always looking for new and exciting programs to offer Lincoln and surrounding areas. Roy Logan may be reached at 732-8770 or info@lincolnparkdistrict.com.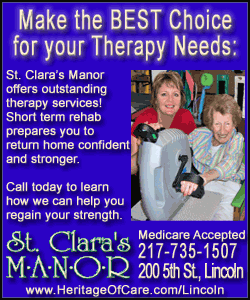 The park district has joined the Facebook community as well. Beyond the www.lincolnparkdistrict.com website, you can give a comment or two on Facebook. The park district will check the site often and looks forward to being one of your "friends."
[Text from file received from Roy Logan, Lincoln Park District]